Sun and Sand Mining Resource Incorporated, a branch of the Sun and Sand Group of Companies, has applied for a logging licence and is also interested in mining in the near future.
According to Director of the Sun and Sand Group of Companies Bhushan Chandna, the company is moving ahead with diversifying its business ventures in Guyana beyond its planned US$54 million hotel at Liliendaal.
Speaking to Stabroek News briefly, Chandna revealed that the Indian company would be applying for a mining licence and has already applied for a logging licence although he could not say when exactly the paperwork was sent in.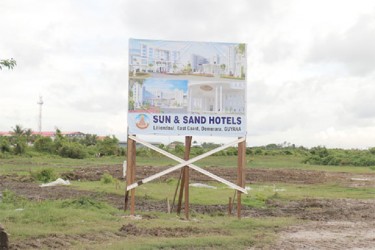 He said that because the company was relatively new to operations in Guyana, it would take time for the full scope of investments to take off.
Stabroek News was reliably informed that the company was granted two prospecting licences that were transferred by another company in 2012 for 24,000 acres of land near the Aranka River Side.
Stabroek News asked Chandna which company the licence was transferred from, but he stated that since mining was not his sector he would not be able to say.
According to sources, the company still needs to do an environmental impact and social assessment and a mining plan based on exploratory work before it applies for any mining licences and Chandna confirmed this to be true.
He said that he would be unable to expand on the current progress of the logging licence, but did venture to say that the Sun and Sand Group was also looking into shipping.
The company's sudden interest in Guyana and the range of diversification ventures being applied for simultaneously has raised public interest, considering the lack of publicity prior to a sod turning ceremony for the proposed hotel at Liliendaal on Wednesday morning.
According to the company's website, there are four mining operations in Guyana, Ghana, Uganda and Rwanda. However the Sun and Sand Industries Ltd, which operates out of Nigeria and is listed as the company responsible for Ghana operations, has not updated information on the company's website pertaining to profit and loss figures since 2008, while claiming to be certified by the International Organisa-tion for Standardisation.
Contrary to claims by the company, Stabroek News has yet to find comprehensive information relating to the mining operations in the four countries named except Guyana. The company website states "Sun & Sand Mining Resource Inc have already got 3 blocks for Gold Mining in Araunka (sic) River Side. We have concrete plans of Exploring 1 MT Gold each year. Procurement of the equipment have been finalized & planning to start production by February 2013." But Stabroek News was told the company is not to be mining until the granting of a licence.
Comments

Jerry Lewis   LOS ANGELES,  (Reuters) – Jerry Lewis, the high prince of low-brow comedy on stage and in movies as well as a fund-raising powerhouse with his annual Labor Day telethon, died today of "natural causes" at the age of 91, his family said.

Beharry Automotive Limited (BAL) , the authorised distributor for Toyota parts and lubricants, says that an abundance  of imitation Toyota parts and lubricants have entered the market with the Toyota logo and trademark.

Grace Mugabe   HARARE,  (Reuters) – Zimbabwe's first lady Grace Mugabe returned from South Africa early today, state media reported, after a 20-year-old model accused her of assault in an upmarket Johannesburg hotel room.

Michael Bhopaul, 16, doesn't know if he is this year's best performer at    the Caribbean Secondary Examination Certificate (CSEC) Examinations, but with preliminary results showing that he has obtained passes in 25 subjects, he will be hard to top.

Inmates at the Lusignan Prison turned over 33 improvised weapons yesterday morning to prison authorities, who say that they also apologised to the prison staff for the unrest at the facility on Friday night.