The One Laptop Per Family (OLPF) staff in Essequibo, Region Two, yesterday distributed over 600 computers to residents in Charity and some riverain areas.
The distribution was conducted at the Charity Secondary School.   According to the OLPF Supervisor for Region Two Indrawattie Natram the distribution commenced on June 18 and 19 at the Maranatha Assembly of God Church, Bounty Hall.
She said, "349 laptops were distributed during that first distribution." The distribution was managed by Region Two staff and was conducted in an orderly manner, she added. Approximately 681 residents benefited from the distribution.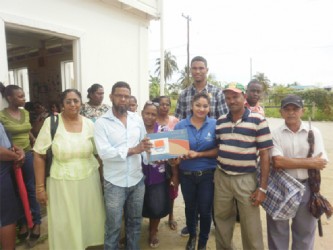 Meanwhile, Natram said the distribution will continue on July 11 at the Maranatha Assembly of God Church where 400 residents living in Bounty Hall will benefit.
Recipients of the laptops were informed prior to the distribution as to which location they were required to go to uplift the computers.
Applicants receiving laptops were verified by OLPF officers and they were told that 10 hours of compulsory training is stipulated to ensure that basic knowledge as to how to operate the computer is taught.
The OLPF programme was initiated by former president Bharrat Jagdeo. It was introduced as a key component of a broader Information and Commu-nication Technology strategy (ICT for Development) which was drafted in 2006.
Comments

Vamanadev Hiralall, of the privately-run Saraswati Vidya Niketan (SVN), is the country's top performer at this year's Caribbean Advanced Proficiency Examinations (CAPE) after achieving an accumulated 13 grade one and 3 grade two passes.

Twenty-six students in the top one percent of the 12,684 who sat this year's Caribbean Secondary Education Certification (CSEC) examinations earned 12 or more Grade I passes, with half of them, including the top performer, coming from Queen's College (QC).

On the second day of the Commission of Inquiry (CoI) into African ancestral lands and other matters, four witnesses made cases for the return of lands they feel they are rightly entitled to, which were either taken by the state or occupied by private owners.

Shelton George, the man charged with both murdering a waitress at a Chinese restaurant and the attempted murder of a magistrate, was found dead in his cell at the Lusignan Prison yesterday morning.

The Chairman of the Triumph Neighbourhood Democratic Council (NDC) yesterday instructed workers employed on a private site, reportedly intended to build a first-floor pool, to cease operations, just two days after residents called on authorities to halt its construction.