An 18-year-old cosmetologist hurrying home to tend to a client's hair was yesterday shot dead by a lone gunman moments after he snatched her cell phone.
Ashmini Harriram called Monisha of Lusig-nan Railway Embankment, East Coast Demerara sustained a gunshot injury to her head and died before arriving at the Georgetown Public Hospital (GPH). Police are on the hunt for a red car that the shooter later fled in.
Residents and relatives were anguished and incensed yesterday. The attack on Harriram occurred a few hours after an attempted gun-point robbery on a Mahaica businessman two villages away (see other story on page 8). She had no known enemies or problems that could have resulted in her death and according to relatives it does appear as though robbery was the motive. Harriram was to get married sometime next year.
Police said in a press release yesterday that the shooting occurred around 11.15 am as the teen was walking along the Lusignan Railway Embankment. The release did not provide any information on the circumstances surrounding the shooting.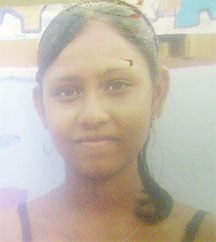 At the GPH, loud wailing erupted as news of the teen's death spread.
When the teen was shot she was walking on the roadway in the company of her cousin Fiona Samwaroo. The teary-eyed woman recounted to the media that they caught a bus from Georgetown and exited on the Lusignan Public Road. She said that as they neared home, Harriram decided to stop at a shop to buy hair colour to do her clients' hair because they kept calling her. She said that a car was parked on the roadway and as they neared "this man come out jus suh with a gun and go straight to she and just grabble she phone and shoot she". A sobbing Samwaroo said that she is unclear how many other persons were in the car but she only saw the gunman who was holding a "small gun". She said that she was so shocked that she didn't pay much attention to the man or the car as it drove away.
She said that she is unaware if the car might have been trailing them. She added that all they snatched was the phone. "They din tek no money or nothing", she said, while repeating that the man went straight for the phone. She said that after Harriram was shot she was bleeding so much that she was unable to determine which part of her face the bullet had struck. She said that she was in such a state of panic that she cannot even remember what happened after Harriram fell to the ground.
Another resident, Nadira told Stabroek News that the teen was to do her hair when she returned home. She said that earlier when she contacted the teen she was on her way. She said that her intention was to get ready and join her as she passed.
She said that while she was sitting in a hammock, she heard something go off like a squib and when she raised her head she saw a girl running on the road. "When I saw her (Fiona) running I see a red car pull off with one speed", she said, adding that she didn't pay attention to the car but had a feeling that something had happened. She said that she then took her children inside and shortly after heard screaming on the road.
She said that she ran to her veranda and when she looked out she saw a girl on the roadway. She said that she then ran to the road. From the neck up, Harriram was covered in blood. She said the girl was just shaking. She added that she noticed the girl's phone casing on the ground along with several hundred dollar bills and a plastic bag with things that she had bought.
The woman said that there have been robberies at night and as far as she is aware "nothing like this never happen before". She described Harriram as a very friendly person.
Kaymawattie Samwaroo called `Seeta', the teen's mother recalled that her daughter did not have the required items to do her cosmetology work and as such she decided to go to Georgetown to make purchases. Between sobs, she said that she had asked her daughter to pay her utility bills. She said that she was taking a long time to come back and as such she decided to call her but before that her landline phone rang and her son answered. The caller delivered the news of the shooting but according to her, she dismissed it. Another relative, she said, visited the home and told her that Harriram had been involved in an accident and when she went to the roadway she found her daughter lying on her back with her whole face covered in blood. She said that there was a hole on her mouth and blood was oozing out. She said that she wasn't speaking. "She lay down deh jus suh sprawl…all she thing deh throw way pon de road", she sobbed adding that when she arrived at the scene the police were already there.
She said that she joined a police car that transported her injured daughter to the hospital. "In de car meh turn back and meh see like she ah dead", she said, adding that when they arrived at the hospital, she was pronounced dead on arrival.
While calling for her killer to be brought to justice, she said that her daughter was a quiet person who was the "baby for de whole area".
When Stabroek News visited the scene, police ranks were still there conducting investigations. Reports are that ranks recovered one spent shell.
This case has echoes of another on September 11, 2010 when Sheema Mangar was run over by a vehicle whose driver had moments before snatched her cell phone. She subsequently died in hospital. No one was charged in this case and the police were unable to trace the vehicle.
There has been a rise in gun related crimes and yesterday the leaders of the two opposition parties expressed concern about this situation.
Many of these murder cases have gone unsolved and this has angered the public and led to skepticism of the force's investigative abilities despite numerous reform pledges by the government and the police force.
Comments

The improvised weapons (Prisons photo) Prison Staff this morning with the support of the members of the other services, reported for duty at the new holding area lusignan Prison.

Nicolas Maduro CARACAS/LIMA, (Reuters) – A group of 12 regional nations plus the United States rejected Venezuela's new government-allied legislative superbody, saying they would continue to regard the opposition-controlled congress as the country's only legitimate law maker.

Eighteen prisoners at the Lusignan penitentiary were being treated for injuries last night following a reported attempt to kill a fellow inmate during which warders fired shots.

A 12-year-old girl is now dead, while her brother narrowly escaped a similar fate yesterday after their aunt's La Bonne Intention (LBI), East Coast Demerara house, which they were under, collapsed on them.

Guyana has officially applied for membership in the European Union's Extractive Industries Transparency Initiative (EITI) which will help in tracking revenues from oil and other natural resources.