Guyanese now have access to more than 66 destinations with the launch of Copa Airline's non-stop service between Cheddi Jagan International Airport (CJIA) and the airline's Hub of the Americas in Panama.
The airline began its service, scheduled for twice a week, yesterday and expressed optimism at the partnership. "We are happy to be at the start of a new and promising partnership and we want to assure that we are going to be here for the long haul," regional sales manager for Copa Airlines Diego Bermudez said in a press statement issued by the company.
The statement went on to say that the new flight will expand connectivity for Guyanese throughout Central, South and North America and the Caribbean while the new link with the Americas is expected to bring "a wealth of opportunity for the Guyanese business and tourism sector."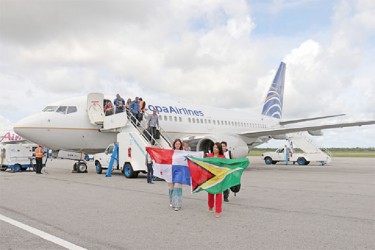 Officials of Copa Airlines have also been working closely with Guyana's Ministry of Tourism and Guyana is expected to be promoted as a tourism destination.
Complimentary means and beverages, including alcohol, will be available on-board along with a 12-channel audio-visual entertainment system in English, Spanish, and Portuguese.
Frequent fliers will also be able to earn miles through the MileagePlus program, the release said. Passengers will also be able to purchase tickets in 7 currencies.
Copa flight 423 will depart Georgetown on Tuesdays and Fridays.
Comments

Wijeyadasa Rajapakshe   COLOMBO, (Reuters) – Sri Lankan President Maithripala Sirisena today sacked the justice minister over his criticism of a $1.1 billion deal, signed last month, to lease a port to a Chinese company, the cabinet spokesman said.

NEW YORK,  (Reuters) – Two Harvard University researchers said in a study published today they had collected scientific data proving Exxon Mobil Corp made "explicit factual misrepresentations" in newspaper ads it purchased to convey its views on the oil industry and climate science.

In the wake of rising bad loans and a massive alleged fraud against it this year, the Guyana Bank for Trade and Industry (GBTI) has posted an unaudited net after tax profit of $603m for the first six months of this year compared to $961m in the same period for 2016.

Vamanadev Hiralall, of the privately-run Saraswati Vidya Niketan (SVN), is the country's top performer at this year's Caribbean Advanced Proficiency Examinations (CAPE) after achieving an accumulated 13 grade one and 3 grade two passes.

Twenty-six students in the top one percent of the 12,684 who sat this year's Caribbean Secondary Education Certification (CSEC) examinations earned 12 or more Grade I passes, with half of them, including the top performer, coming from Queen's College (QC).