The police yesterday continued to collect statements from the family of Ashmini Harriram, the 18-year-old who was fatally shot during a suspected robbery on Thursday morning.
Speaking to Sta-broek News yesterday, Ashmini's mother Khemwattie said she was still shocked at what happened to her daughter and confused about why her assailant would be so cruel as to take her life.
Harriram, a cosmetologist of Lusignan, was hurrying home to tend to a client's hair when a man grabbed her $15,000 cellphone and shot her in her head. The shooting occurred around 11:15 am, when the teen and a cousin disembarked a bus along the Lusignan Railway Embankment.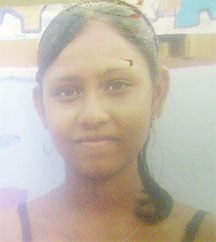 The cousin, Fiona Samaroo, said they were walking along the roadway when a man exited a car with a gun, walked straight up to Ashmini and grabbed the phone and shot her. Samaroo said she was unclear how many other persons were in the car but she only saw the gunman, who was holding a "small gun". She said that she was so shocked that she didn't pay much attention to the man or the car as it drove off.
She said after Harriram was shot she was bleeding so much that she was unable to determine which part of her face the bullet had struck. A post mortem examination yesterday confirmed that Harriram died as a result of shock and hemorrhage due to a gunshot injury.
Khemwattie yesterday stated that her daughter was a happy girl who did not have trouble with anyone. She said the police were still taking statements from her and other relatives.
The girl's family said it appeared as though robbery was the motive for the attack since she had no enemies or disputes.
Recently, there has been a rise in gun crimes, causing leaders of the opposition parties to express dismay and concern. Many of these murder cases have gone unsolved and this has angered the public and led to skepticism of the force's investigative abilities despite numerous reform pledges by the government and the police force.
Comments

Farha Faiz, a lawyer, speaks with the media after a verdict for the controversial Muslim quick divorce law outside the Supreme Court in New Delhi, India August 22, 2017.  

Defeat Tallawahs by 37 runs Chris Gayle, playing in his 50th CPL match, produced his 63rd T20 fifty as St Kitts & Nevis Patriots cruised past Jamaica Tallawahs by 37 runs to guarantee a place in the playoffs for the first time in their three-year history.

The Guyana Football Federation (GFF) has officially selected the Boys and Girls teams which will represent the nation at the Inter-Guiana Games (IGG) Goodwill Series scheduled for Suriname from the August 25th– 27th.

The Commission of Inquiry (CoI) into African ancestral land ownership began hearings yesterday with a significant portion of the first day's proceedings being dedicated to questions pertaining to the allocation of lots in the controversial 'Pradoville 2' Housing Scheme.