A day after pleading his innocence, Dexter Daniels yesterday claimed ownership of the more than one tonne of narcotics found at a Grove, East Bank Demerara house and he was sentenced to three years in jail.
Daniels was arraigned and remanded to prison on Thursday on charges of possession of drugs found at a house at Grove, East Bank Demerara, including over a tonne of high grade marijuana.
His attorney James Bond indicated to the court that his client wished to change his plea to the charges.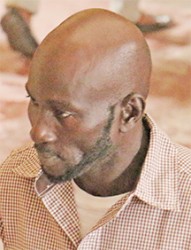 Daniels admitted that on July 7, at Lot 9, Section 'C' Grove, East Bank Demerara, he had in his possession 1,213 kilogrammes of cannabis for the purpose of trafficking. The Kara Kara, Linden man also accepted that on the same day he had 4.222 kilogrammes of cocaine for the purpose of trafficking. The over a tonne of marijuana was found in a parked truck on the bridge outside the yard, while the cocaine was found on the premises, under a mattress in a bedroom.
An apologetic Daniels told the court yesterday that he made a mistake for which he must face the consequences and admitted that the illegal items belonged to him.
After hearing Daniels' confession, Chief Magis-trate Priya Sewnarine-Beharry informed him that he would be sentenced to three years imprisonment on each charge. With the sentences running concurrently, Daniels will only spend three years in prison. Additionally, he was fined $30,000 on each charge.
At his first appearance on Thursday, Daniels who was at that time unrepresented by counsel, denied the charges when they were read to him.
Comments

A section of the Kitty Public Road is to be closed from Wednesday as the Ministry of Public Infrastructure steps up road works in the area.

Anil Nandlall Former Attorney General Anil Nandlall today rejected an explanation by Minister of State, Joseph Harmon over the government's directive to the Police Service Commission to halt promotions.

The improvised weapons (Prisons photo) Prison Staff this morning with the support of the members of the other services, reported for duty at the new holding area lusignan Prison.

Nicolas Maduro CARACAS/LIMA, (Reuters) – A group of 12 regional nations plus the United States rejected Venezuela's new government-allied legislative superbody, saying they would continue to regard the opposition-controlled congress as the country's only legitimate law maker.

Eighteen prisoners at the Lusignan penitentiary were being treated for injuries last night following a reported attempt to kill a fellow inmate during which warders fired shots.