The relatives of murdered shop owner Bibi Sheniza Khan-Bhola are furious with the police for allegedly failing to act on vital leads including surveillance footage and information pertaining to the whereabouts of the two suspects who say are being "protected".
It has been five months since the 34-year-old businesswoman was found stabbed to death in her shop at Rock Creek, Cuyuni River.
Police had issued a wanted bulletin for Natton Anthony Stoute of Helena No. 2 Mahaica, East Coast Demerara (ECD). He was one of two men who were staying with the woman around the time that she was killed.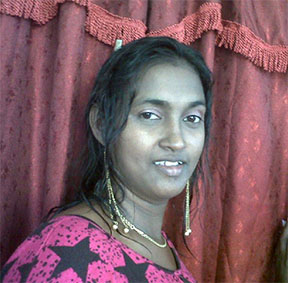 Her upset aunt Bibi Hodge Shaw told Stabroek News on Saturday from St. Maarten where she works as a journalist that she cannot comprehend why the police would issue a wanted bulletin for one person when he and another were caught on a surveillance camera selling the woman's jewellery at a shop in Bartica.
Shaw said that her relatives in Guyana through their own "digging" had picked up a lot of useful information and though it was shared with the police, ranks have failed to act. She said too that she made contact with Acting Police Commissioner Seelall Persaud but on three occasions, the call was disconnected. She said that her niece's family is now living in fear after unknown persons attempted to break into her (Bhola's) Parfait Harmonie home while her two children were inside.
She said that her niece was the owner of two shops in the Cuyuni area; one was being operated by her while her husband was in control of the other. She said that Bhola was a very friendly and compassionate person who in addition to selling clothing and other essential items that miners would need, would cook food to sell to persons.
According to her, Stoute and another man were unable to find work in the area and were starving when they ended up at Bhola's shop. "She started feeding them…and later bought a pump for them to work".
She said that based on the information provided to her, Bhola had an argument with the duo sometime on February 26 and the following day she was found murdered at the shop. She accused the police of doing a sloppy investigation.
The woman told Stabroek News that someone in the area told relatives that she had heard a screaming from the direction of the shop but she apparently told the police a different story. Shaw said that although relatives told the police what the woman had told them, she was never re-interviewed.
She said that she has other relatives who work in the Cuyuni area and they did a lot of digging. Shaw explained that Bhola had a connection with the Bartica community as her parents had a butcher shop there and were well known. She said that because of that connection their relatives were able to track down the two suspects to that community. She said that through their own investigation they were also able to ascertain when the men travelled out, by what means and what colour clothing they wore. All of this information was handed over to the police she said adding, that they eventually received information that the duo had visited a pawn shop in Bartica. It was from this location, that they got surveillance footage of the men selling Bhola's gold jewellery. According to her, the owner of the establishment later returned the pieces of jewellery to them.
She said that the police are in possession of that surveillance tape which shows the two suspects who are both wearing black t shirts with haversacks on their backs.
According to Hodge, relatives had picked up information that the men were travelling in a mini bus. She said that they made contact with her and provided information about the colour of the bus they were in, which part of the bus they were seated in and the colour clothing that they were wearing. She said she called a senior policeman to pass on the information but the phone was disconnected.
She said that she became infuriated and called the then police commissioner Leroy Brumell. She said that after pleading with him not to "hang up his phone" she related what had transpired.
Shaw said that she called Persaud subsequently and he gave her contact information for an officer at Eve Leary who had been assigned to the case.
She recalled that she had travelled to Guyana for her niece's funeral. Soon after the funeral, at a gathering, she received information that the two suspects had robbed another female shop owner in the area. She said that the woman related that Stoute was in his 30s and not 19 or 20 years old as the police were assuming. Shaw told this newspaper that the woman said that he was held at the Brickdam lock ups previously and that he had a tattoo of an AK 47 rifle on his body. According to Shaw she made contact with the person at Eve Leary who Persaud had put her onto and related what had been told to her. She said that a few days later a wanted bulletin was issued for Stoute but there was nothing in relation to his accomplice.
"My relatives are trying to give the police information but they are being pushed around all the time", she stressed, before questioning why attempts were not made to extract images of the perpetrators from the surveillance tape or releasing the tape to the television media. She insists that if this is done, somebody will be able to recognize Stoute's accomplice adding that she is certain that they are still residing in Guyana.
"My nephews are working round the clock like detectives", she said while stressing that a month after she had left Guyana two men attempted to break into her niece's house. She said that her niece's daughter saw someone trying to remove the window panes. Now, she said the child is traumatized. She blamed irresponsible journalism for this explaining, that one of the local newspapers published a photograph of her niece's house. She said this was "irresponsible behaviour" which has now put the family in danger.
She later said that when she spoke to her nephew on Saturday he told her that the rank at Eve Leary no longer talks to them and does not accept information from the family.
Shaw used the opportunity to call on the police to take the investigation seriously and to work hard to catch her niece's killers so that they can get justice and closure.
Comments

Left-arm spinner Ashmead Nedd … picked up a couple wickets in Guyana's win.  

Jerry Lewis   LOS ANGELES,  (Reuters) – Jerry Lewis, the high prince of low-brow comedy on stage and in movies as well as a fund-raising powerhouse with his annual Labor Day telethon, died today of "natural causes" at the age of 91, his family said.

Beharry Automotive Limited (BAL) , the authorised distributor for Toyota parts and lubricants, says that an abundance  of imitation Toyota parts and lubricants have entered the market with the Toyota logo and trademark.

Grace Mugabe   HARARE,  (Reuters) – Zimbabwe's first lady Grace Mugabe returned from South Africa early today, state media reported, after a 20-year-old model accused her of assault in an upmarket Johannesburg hotel room.

Michael Bhopaul, 16, doesn't know if he is this year's best performer at    the Caribbean Secondary Examination Certificate (CSEC) Examinations, but with preliminary results showing that he has obtained passes in 25 subjects, he will be hard to top.