New York-based Guyanese Lisa Punch was saved last night by West Coast voters and will advance to the next round of ABC's Rising Star.
Punch got 67.43% of the West Coast votes, ahead of Sarah Darling 67.34% and Will Roth: 56%.
Earlier, Punch who duelled with Alice Lee had received 66%, while Lee got 69 %. Neither had secured the mandatory 70 percent needed to automatically advance to the next round so it was up to US West Coast viewers to determine who would advance to round three.
Punch's fans came through for her, albeit by less than one-tenth of one percent. And while Lee beat Punch by 3% on the East Coast, on the West Coast Lee managed just 68%,beating Punch by less that 1%. Lee, who sang "Wings," had secured the votes of all three judges – Chris "Ludacris" Bridges, Kesha, and Brad Paisley, while only Kesha voted for Punch, who did a rendition of Pink's "Perfect".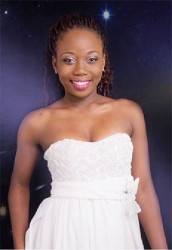 Ludacris had speculated that the pressure probably got the best of Punch, and noted that she was shaky at the beginning although she managed a solid ending. He said in the end he could not vote for her because he knows she is capable of better. Meanwhile, Paisley said while both girls sounded good they are in a competition and that he felt Lee's performance proves she wants to win more than Punch.
In the weeks of training leading up to last night's competition Lee was warned of the energy Punch brings to her performance and was advised to either up her energy or counter Punch's energy with a superior vocal performance. Meanwhile Punch was encouraged to educate herself on the mechanics of singing. The judges told Punch that Lee was somewhat more experienced as she has received formal voice training and she has not.
Punch therefore had to start learning the mechanics of singing, as well as concentrate on singing the song the way she wanted. She was nevertheless optimistic that she would do well. The results are to be known next week.
Comments

(Trinidad Guardian) Education Minister Anthony Garcia says the University of Trinidad and Tobago (UTT) is of the view that the organisation is "overstaffed and to run the university efficiently it will mean they have to trim fat." But former Tertiary Education Minister Fazal Karim is warning that the decision to retrench 287 staff members, will "compromise the quality of teaching and learning and administration at the university," and may impact its accreditation with the Accreditation Council of Trinidad and Tobago (ACTT).

In preparation for Guyana's emerging oil and gas sector and the bustling business usually synonymous with the industry, the Pegasus Hotel is expected to undergo a huge expansion which includes office and residential rental spaces.

Police Commissioner Seelall Persaud is to resume his duties today after spending approximately six months on leave, Public Security Minister Khemraj Ramjattan yesterday confirmed to Stabroek News.
The Alliance For Change (AFC) yesterday launched a scathing attack on the union GAWU, accusing it of decades of sabotage of the sugar industry and not genuinely representing the interests of its workers.

The importance of foot health, especially for persons with diabetes, was emphasized by Podologist Yvonne Braithwaite yesterday, when she launched the local leg of Rovon Health Care Inc, which includes a foot spa.