Lisa Punch advances to next round in Rising Star
New York-based Guyanese Lisa Punch was saved last night by West Coast voters and will advance to the next round of ABC's Rising Star.
Punch got 67.43% of the West Coast votes, ahead of Sarah Darling 67.34% and Will Roth: 56%.
Earlier, Punch who duelled with Alice Lee had received 66%, while Lee got 69 %. Neither had secured the mandatory 70 percent needed to automatically advance to the next round so it was up to US West Coast viewers to determine who would advance to round three.
Punch's fans came through for her, albeit by less than one-tenth of one percent. And while Lee beat Punch by 3% on the East Coast, on the West Coast Lee managed just 68%,beating Punch by less that 1%. Lee, who sang "Wings," had secured the votes of all three judges – Chris "Ludacris" Bridges, Kesha, and Brad Paisley, while only Kesha voted for Punch, who did a rendition of Pink's "Perfect".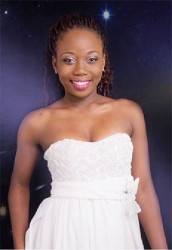 Ludacris had speculated that the pressure probably got the best of Punch, and noted that she was shaky at the beginning although she managed a solid ending. He said in the end he could not vote for her because he knows she is capable of better. Meanwhile, Paisley said while both girls sounded good they are in a competition and that he felt Lee's performance proves she wants to win more than Punch.
In the weeks of training leading up to last night's competition Lee was warned of the energy Punch brings to her performance and was advised to either up her energy or counter Punch's energy with a superior vocal performance. Meanwhile Punch was encouraged to educate herself on the mechanics of singing. The judges told Punch that Lee was somewhat more experienced as she has received formal voice training and she has not.
Punch therefore had to start learning the mechanics of singing, as well as concentrate on singing the song the way she wanted. She was nevertheless optimistic that she would do well. The results are to be known next week.
Most Read This Week