People's National Congress (PNCR) stalwart Aubrey Norton is to challenge David Granger for the party's leadership during its Congress to be held in two weeks from July 25th to 27th.
There had been reports in recent months that Norton had such ambitions but he refused to confirm or discredit these until recently. Yesterday, Norton said his decision to challenge Granger stems from encouragement he has received from various "party people." Norton has not been very visible in the media recently and he says he has used his time away from the limelight to interact with party members and supporters across the country. He says his interactions have made several things obvious, including the need for more consultations before decisions are made.
Norton says he has touched every region, except those in the interior and that party members and supporters in these areas have urged him to vie for the PNCR's lead role. He also says his interactions with "party people" has convinced him that he has an "excellent chance" of succeeding against Granger.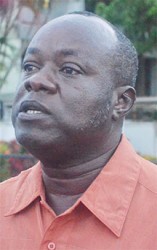 Norton says there are many within the party who believe the PNCR's leadership should be separate from that of A Partnership for National Unity (APNU), of which it is the largest member.
He believes that his wresting the PNCR's leadership from Granger would allow Granger to devote his full attention to parliamentary affairs while he looks after the PNCR's business, including getting it ready for the coming general elections.
Norton, who served as the PNCR's General Secretary (GS) from 1997 to 1998 says he wants to make the party more inclusive when it comes to decision making and so intends to draw from the diverse skills and knowledge which lie in members across the country. This, he says, will make the party stronger and foster unity.
Transparency
Several recent incidents, including the way the party's executives have handled the suspension of Vanessa Kissoon and the sale of its land have raised questions as to the level transparency exercised by PNCR. When probed on these matters several party officials have said that the issues are internal and not to be disclosed to the media. Recently however, the PNCR made a partial disclosure on the Kissoon matter.
The matter is to engage the attention of a recently formed disciplinary committee and PNC General Secretary Oscar Clarke, who was a party to the incident that led to Kissoon's suspension, told Stabroek News yesterday he hopes the committee finishes its work before the party's congress which is scheduled to run from July 25th to 27th. A date, however, for the hearing has not been set and Kissoon said yesterday that she does not know if it will take place before Congress. She also declined to comment on her intended actions, if any, at this year's congress.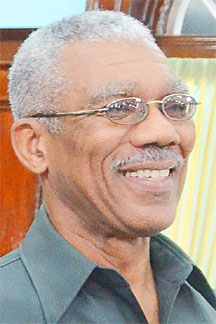 Though he declined to comment on the Kissoon matter directly, Norton says he would deal with any and all issues in accordance with the party's constitution. He said the constitution is clear and that a perusal of such makes it clear whether or not the method adopted to address the Kissoon matter is constitutional. On the issue of transparency, he said the party should practise just as much transparency as it demands from others.
Transparency, adherence to the rule of law and honouring the constitution, he continued, will characterize his leadership of the PNCR.
Focus on youth
One thing both Granger and Norton agree on is an increased role for the party's youth. Several weeks ago Christopher Jones, leader of the PNCR's youth arm said Granger has been faithful to his promise to give the party's younger members more engaging roles. Jones pointed to the presence of himself and APNU MP James Bond in the National Assembly as evidence of the fulfilment of Granger's promise.
Both Bond and Jones have pledged their support towards retaining Granger as the party's leader. Meantime, Norton says there is a need to train young people who are politically conscious to make decisions based on issues. Norton says he would therefore ensure the party has educational instructions on the above-mentioned, but also managerial skills.
This, he said, will facilitate the change in political culture that he believes is needed. Meanwhile, APNU point man on finance, Carl Greenidge, who challenged Granger for the party's leadership two years ago, yesterday would not confirm or deny that he has intentions of getting into the race.
Nominations and party membership
Though nominations closed officially on Saturday, Clarke said it is still open as several groups, particularly from the interior regions, are yet to submit their nomination sheets. Also, some party members are yet to receive membership cards and Clarke says this is largely due to teething problem experienced in implementing the new identification card system.
Pursuant to a decision taken earlier this year, the party is changing the format of its membership card and Clarke says a membership application form as well as a recent photo are needed to complete the card. Many members though, he shared, are yet to bring in the needed information and have therefore not been issued membership cards. He lamented that those from interior locations are ahead of members from George-town in terms of sending in the needed documents to get their cards looked after.
Once the party receives the needed information, Clarke says an applicant can receive their card the same day. Noting a letter published in Stabroek News on June 27th in which someone claiming to be a member said there is tardiness in the issuing of cards, Clarke said some people have "grouses" and seek to express them. He gave assurances that the issuance of membership cards will not be impede voting at the upcoming congress as those who do not have cards will be identified by their National Identification cards.
Comments

Three persons, including the widow of one of the two Pomeroon farmers shot dead on Sunday, have been taken into custody and police say one of them led detectives to the location of an arms cache that allegedly belonged to one of the deceased.

The $3.5 billion contract for the Mazaruni Prison expansion, over which BK International Inc.

The family of Marlon Fredericks, the mentally-challenged vendor who was fatally shot by a member of the city constabulary on Sunday, has lodged a report at the Police Complaints Authority (PCA) after a police force report on his cause of death contradicted the autopsy report.
Police in 'B' Division are searching for six suspects in connection with the recent shooting at De Velde, in the Berbice River.

Grade Six students are sitting a series of mock examinations designed to prepare them for this year's National Grade Six Assessment (NGSA) scheduled to be held on the 28 and 29 of March.