By Mario Joseph
A week after their boat was attacked by pirates in Suriname's waters, four fishermen remain missing and their empty, bloodied boat was found at De Hoop, Mahaica on Monday.
Of the five-man crew, only the captain, whose name was given as Feroze of Double Road, Lusignan, East Coast Demerara is known to have survived. The other members of the crew identified as Andrew, of Lusignan, Dinesh also known as Monkey Brain, of Uitvlugt, Raymond Gomes, 37, and Chandrapaul Jallim, 19, both of Recht-door-zee, West Bank Demerara, remain missing.
Reports of the incident first made their way to Guyana when Feroze contacted his wife early Thursday morning and related the traumatic experience. Feroze's wife, who did not want to give her name, then called the boat owner, Deochand Bharat and informed him of the incident.
Bharat, who hails from Mon Repos North, related to Stabroek News the events that occurred after he received the news. He said that he collected the phone number that was used to contact Feroze's wife and dialed the number to get more details of what had transpired. He explain-ed that Feroze, whom he visited in Suriname the following day chronicled the events that occurred to him.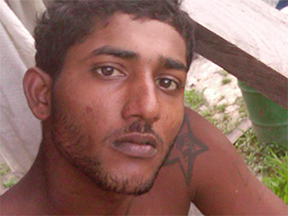 According to Bharat, he was told that on Tuesday night, at approximately 10pm, the fishermen who had just thrown out their nets, were eating in the cabin when they heard a loud thump and felt a vibration from the back of the boat. This crash, they discovered, was caused by a pirate boat, and had caused the engine to sink. A number of men then started hitting the boat with cutlasses and instructed the crew to lie down. They tied the hands of four of the men while they demanded that the fifth man help load the fish into the pirate's boat.
Another crew member was untied to help fetch the fuel drum over to the pirate's boat after which they were again restrained. The pirates were relieving the crew of their compass and watches when one of the crew members, Dinesh, looked up at the pirates' faces which caused them to chop his hand. Blood spilled about the boat from the wound which was described as a virtual severing of the little finger.
According to Bharat, the captain then begged to be untied to bandage the wound which he was permitted to do, after which he was again tied up. The crew was then instructed to board the pirate's boat. The pirates then cut the hijacked boat's anchor and it floated away. They then headed up the Corentyne River for approximately 45 minutes.
Bharat said that he was told that the boat then stopped, the men were blindfolded and tossed overboard. He said that Feroze told him that four persons managed to loosen the ropes around their hands but the pirates shone a light upon them and subsequently steered the boat into the water where they were swimming. Amid the crashing waves and the darkness, the crew was separated with Feroze swimming and holding onto a floating object. After hours of swimming/ floating, he landed on the shore of an island the following morning where he collapsed and slept, Bharat related.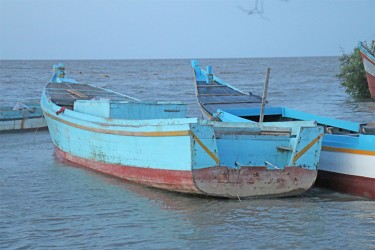 When Feroze woke, he noticed a boat in the distance and ran out to it. The crew gave him a drink of water and took him to a smaller boat, which took him to Copenaam in Suriname. There he reported the matter to the police and was kept in custody. According to Bharat, the Surinamese authorities have been searching the waters for the past five days with him tagging along for two days. None of the other crew members have been found and he fears that they are dead, he said.
Meantime, Gomes' mother Pamela Maikoo told Stabroek News that she received the news from Bharat on Sunday evening. She indicated that she was at work when she got the news and wanted to leave but stayed and finished her shift. She said that she cried continuously and has been crying since. She said that she is feeling very weak and just wants to know what exactly happened to her son. "I just want to know if he's alive or dead. If he's alive I want to know if he's getting help," she cried. She added that her son had only worked with Bharat for about two months and that this was his third trip and she did not expect this to happen.
Jallim's partner Nicola Ogeer said that Jallim was fairly new to fishing and this was his first trip on that boat. She related to Stabroek News that she received the news from Gomes' brother on Sunday evening. She said that she is pregnant and the two had planned to get married soon. "The little strength that I have is to find out exactly what happened," she sobbed.
Local police have examined the boat and have taken samples of the blood-soaked clothes that were found in it. Investigations are ongoing but since the incident occurred in Surinamese waters, they have the responsibility of solving the crime, Stabroek News was told.
Comments
An intoxicated driver has been taken into custody following a fatal accident which occurred about 20:25hrs last night on the Letter Kenny Public Road, Corentyne, Berbice, the police say.

As part of a continuing investigation into recent carjackings, yesterday ranks of the Guyana Police Force during an intelligence-led operation intercepted two vehicles and detained four persons in 'A' Division.

Even as he posited that Guyana was unequally matched in negotiations with ExxonMobil and other multinationals, British Professor of Economics and Public Policy, Sir Paul Collier last evening cautioned against pulling back the contract with the US company and affiliates, saying it can spell doom for Guyana's investment climate.

-SPU representative says efficiency improved by 40-45% Photos by Dhanash Ramroop Grinding has resumed at the Enmore Sugar Estate factory in a bid to make use of cane in the fields and to attract prospective investors.

Fly Jamaica Airways crewmember Hugh Hall was caught with US$160,000 worth of cocaine taped to his legs after a flight, according to NBC news in New York.