Thirteen hundred members of the Guyana Police Force (GPF) were yesterday endowed with $12.3 million in awards for exceptional service as part of the Force's annual anniversary celebrations.
This year, the GPF celebrates its 175th anniversary and held its traditional awards ceremony which began in 1990. Speaking at the ceremony, Commis-sioner of Police Seelall Persaud recognized the role such an event plays. "This snapshot of the performance of our ranks, apart from the abuses, is certainly deserving of the awards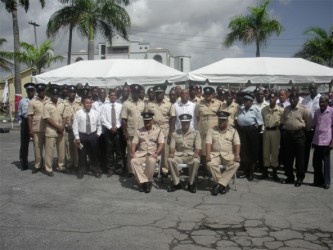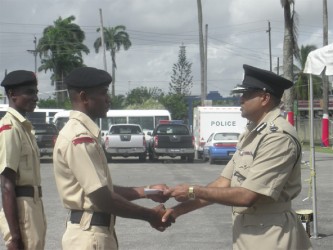 they are receiving and, like before, contribute to constructive competition, teamwork, and an overall improvement of the service we provide to the public," Persaud said.
"The positive motivational impact it has on our ranks by recognizing efforts they made beyond the normal call of duty, a motivation that impacted positively on the services we provide to the people we serve, has indicated that this ceremony remained relevant…" he added.
Awards were given out to officers, inspectors, and other ranks for outstanding performance including the apprehending of persons with illegal firearms, the uplifting of prints during crime scene investigations, the near-eradication of illicit drugs in Berbice, and the implementation and running of Project Impact Albouystown.
In some cases, the ranks' roles have led to charges being laid against alleged criminals as well as convictions of law-breakers.
Speaking on behalf of the awardees, Cadet Officer Alphonso said, "Today we are being congratulated for dedication, commitment, integrity, and character… Today we are celebrating the fact that we as awardees stood up and took action."
The event is held twice yearly and will see more officers being awarded in December.
Comments
British High Commissioner to Guyana Greg  Quinn  yesterday said that it was hoped that more would have been done to push the constitutional reform process forward.

A West Coast Berbice man died after he reportedly set his one-storey house ablaze sometime around 11.20 am yesterday.

A Yarrowkabra miner was yesterday charged with the murder of a co-worker, whom he allegedly beat to death during an alcohol-fuelled clash last Saturday at a dredge site in the Potaro Backdam.
A court action was yesterday filed challenging a directive issued in the name of President David Granger to the Police Service Commission (PSC) for a hold to be placed on planned promotions this year, Attorney Rajendra Jaigobin, who operates from the Chambers of former Attorney General Anil Nandlall, is seeking the following declarations by the court: "a declaration that the Police Service Commission, a Commission established by the Constitution of the Cooperative Republic of Guyana, in the exercise of its functions shall not be subject to the direction or control of any other person or authority;
UK security expert Lt Col (rtd) Russell Combe, who is working closely with the Guyana government to resuscitate the Security Sector Reform Action Plan (SSRAP), will be broadening his mandate to assess the country's prison situation.