Crane housewife stabbed to death, cops seeking husband
A Crane housewife believed to have been fatally stabbed by her husband several times was discovered by neighbours, after her bound 11-year-old daughter escaped and raised an alarm.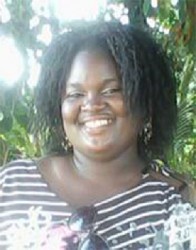 Dead is Candy Rawlins, 30, of Crane Housing Scheme, West Coast Demerara.
According to a police press release, Rawlins' body was found at 08:45 hrs, after her 11-year-old daughter, who had been tied to a chair with her mouth taped, managed to free herself and inform neighbours.
A neighbour who spoke to Stabroek News on the condition of anonymity, said she was alerted to the murder when she saw scores of police officers flocking the home of the Rawlinses. She described Candy as a "quiet person," and her husband Vidal Rawlins as a "friendly man." Additionally, that neighbour said the Rawlins was only seen whenever she left the home and returned.
"You don't even see when she sweeping out she house," the neighbour added.
The police further mentioned in the release that they were yet to arrest the husband.
Moreover investigations are still in progress, said the police.
Rawlins is survived by her daughter. The body is at the Ezekiel Funeral Home, awaiting a post-mortem examination.
Most Read This Week