After being crushed by a building under which he was sleeping at Beterverwagting (BV), 23-year-old Dimitri Reece, who was said to be mentally unstable, is now dead.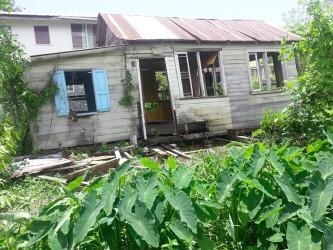 The tragedy occurred in the wee hours of yesterday morning, according the residents of Sideline Dam, BV, East Coast Demerara. They related that at around 3 am they heard the loud noise and observed the house falling. However Reece's cousin opined that no one was aware of his cousin's presence on the premises until much later when "the place got bright." According to him, it was then they discovered that Reece had in fact been sleeping in his hammock under the house. However, when they pulled the man out from beneath the debris, it was too late.
Reece's cousin explained that the man was deemed mentally unstable and he had no fixed place of abode as he preferred to wander the neighbourhood. Relatives said Reece was welcome in their home; he just didn't want to stay.
Another resident of the community explained that the collapse of the house did not come as much of a shock to her as the building was very old and in a deplorable condition because it was uninhabited.
There are several other similar buildings in the community; unmonitored and posing a danger to residents. When asked for a comment on the matter, NDC chairman Bruce Adams said he was unaware of the collapse of the house and had nothing to say about the other unsound structures in the neighbourhood.
Comments

A section of the Kitty Public Road is to be closed from Wednesday as the Ministry of Public Infrastructure steps up road works in the area.

Anil Nandlall Former Attorney General Anil Nandlall today rejected an explanation by Minister of State, Joseph Harmon over the government's directive to the Police Service Commission to halt promotions.

The improvised weapons (Prisons photo) Prison Staff this morning with the support of the members of the other services, reported for duty at the new holding area lusignan Prison.

Nicolas Maduro CARACAS/LIMA, (Reuters) – A group of 12 regional nations plus the United States rejected Venezuela's new government-allied legislative superbody, saying they would continue to regard the opposition-controlled congress as the country's only legitimate law maker.

Eighteen prisoners at the Lusignan penitentiary were being treated for injuries last night following a reported attempt to kill a fellow inmate during which warders fired shots.