By Mario Joseph
Police were last evening questioning the captain of the fishing boat from which four men went missing in an alleged pirate attack which has seen one body recovered so far.
The captain of the boat, Feroze Hack, of Lusignan who arrived in Guyana from Suriname yesterday had told the owner of the boat, Deochand Bharat that the crew was attacked by pirates at night in Suriname waters.
Hack arrived in Guyana yesterday morning, and went into the B/V Police Station at approximately 11am. A police detective explained that Hack was released by the Surinamese authorities after satisfying their investigation of the alleged piracy. He further mentioned that Hack, returned and submitted himself to the police of his own free will. He added that Hack will remain in police custody until today, to facilitate a thorough inquiry.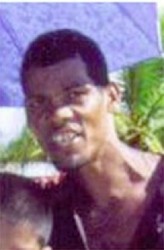 Hack had said through Bharat that the pirates tied up him and his crew with rope, and relieved them of their cargo and possessions before transferring them to the pirate boat and leaving the other boat to drift. Bharat further related that Hack told him that the crew was then taken deeper into the Corentyne River, where they were blindfolded and tossed overboard with only Hack, surviving.
The sister of Andrew Gopie, whose body washed ashore on Thursday said that she is seeking justice for her brother after finding his body so close to home. This she said confirmed her suspicions that the incident could not have happened in Suriname when the boat that the missing crew was on floated into De Hoop, Mahaica.
Recalling the events preceding the discovery of her brother's body, she said that on Wednesday at midnight, she visited a Mahaica pandit, to do some religious work in an effort to find her brother. She said that the pandit told her that they would find him the following day and that she should search between the areas, starting from Mahaica to #63 beach, Berbice. She recollected telling her cousin, Cheryl whose husband organised the search party to go look for him and call her if they turned up anything.
Cheryl who, spoke to this newspaper said that the pandit had led the search party, in his car, with she, her husband and a number of his friends trailing behind in a mini bus on the East Coast Public Road.
The group turned off into Good Faith, Mahaica and drove onto the beach where they noticed some carrion crows circling a body after which they called the police. The discovery was made at approximately 3:00pm, with Cheryl saying that she knew it was Andrew, but called his sister to come and identify him.
The sister said she arrived on the scene, at approximately 3:30, with her husband. She described the horror she felt when she saw her brother's body, recognising the jeans he was wearing, as one gifted to him by her. She sobbed, "I couldn't look at his face, I started crying and my husband had to handle everything". She said, "This is not easy, I don't know how I will cope with this. If he was sick or died naturally I would have accepted that, but not this, I cannot accept this". She said she did however notice a black and blue bruise on his lower back which she assumed was from being struck by something.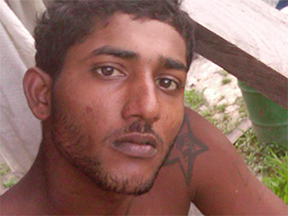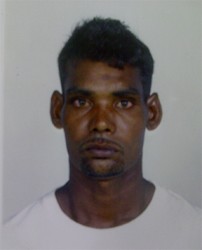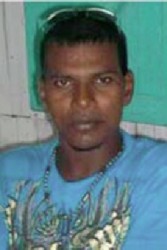 The partner of Chandrapaul Jallim, the youngest of the lot, said that she was amongst the search party that discovered the body of Gopie. She described his body as being battered, with a broken arm, dislodged shoulder and a cut in his head. She said it was obvious that something monstrous happened on the boat and is of the opinion that it happened in waters just off Mahaica/Mahaicony. She said that she has been devoting her time looking for her partner and won't rest until she finds him.
The sister of, Vinesh Drunarine, aka Dinesh or Monkey Brains, says the discovery of the body is very suspicious. She questioned, "How come the body and the boat turn up around the same place so far from Suriname?" She further questioned, "Why didn't either stick up somewhere along the Corentyne River or anywhere different?" She said that the police need to step up their investigations.
Father of Drunarine, Rudy says that he does not want to lay any allegation against anyone but did say that the whole situation is fishy.
He added, "I'm no policeman but its common sense to question how the boat and a body ended up so far from where the incident occurred". He did opine that the police should be more involved in searches since it's only families and friends spearheading the effort. He said that he is currently searching along Mahaicony with 14 other persons and had been at it since 5:00am.
The mother of Raymond Gomes, said that the situation doesn't look right. She said that the discovery of the boat and the body close to Mahaica/ Mahaicony was puzzling considering that the incident was said to have occurred in the Corentyne River.
She said that her other children and relatives are searching with the other families.   Asked about what she expects to happen, she replied, "I just praying to God that they find my son's body so that I could get some closure".
In other quarters, reports have surfaced that Jallim, had made contact with friends, during the three days of his departure from the Meadowbank wharf, before the incident occurred.
According to sources, Jallim wanted to return home because he was afraid of something bad happening since he left. The sources say Jallim told them that the captain was acting irrationally. They say that he had made several phone calls up to July 7th relating what had been happening on the boat that caused him to be in fear.
Comments

Vamanadev Hiralall, of the privately-run Saraswati Vidya Niketan (SVN), is the country's top performer at this year's Caribbean Advanced Proficiency Examinations (CAPE) after achieving an accumulated 13 grade one and 3 grade two passes.

Twenty-six students in the top one percent of the 12,684 who sat this year's Caribbean Secondary Education Certification (CSEC) examinations earned 12 or more Grade I passes, with half of them, including the top performer, coming from Queen's College (QC).

On the second day of the Commission of Inquiry (CoI) into African ancestral lands and other matters, four witnesses made cases for the return of lands they feel they are rightly entitled to, which were either taken by the state or occupied by private owners.

Shelton George, the man charged with both murdering a waitress at a Chinese restaurant and the attempted murder of a magistrate, was found dead in his cell at the Lusignan Prison yesterday morning.

The Chairman of the Triumph Neighbourhood Democratic Council (NDC) yesterday instructed workers employed on a private site, reportedly intended to build a first-floor pool, to cease operations, just two days after residents called on authorities to halt its construction.