Likening the proposed no-confidence motion against the government to a ball, AFC vice-chairman Moses Nagamootoo says that ownership of it resides in the combined opposition and it is time to kick it home. "Inevitably and inexorably," the government would fall, he said.
"For now, the no-confidence ball is in the AFC's court. But we do not claim ownership of it by ourselves. Ownership resides in the combined opposition. We must no longer see our one-seat majority as a technical issue, as a numbers game. We have the power ball, and it is time that we kick it home," he said in a statement yesterday.
After the no-confidence motion – which would trigger general elections if passed by the opposition using their majority – was raised by him several weeks ago, the AFC upped the ante on Thursday when AFC leader Khemraj Ramjattan in a letter to President Donald Ramotar said that the party saw no alternative but to move a no-confidence motion against his administration citing what he said was the unauthorized withdrawal of billions of dollars from the Consolidated Fund. Ramotar has responded that such a motion is "completely baseless and spurious" and he would be prepared for the consequences.
APNU's parliamentary votes are needed to pass a no-confidence vote but the coalition has yet to make a decision on the matter. Analysts have said it is in a tight spot over whether or not to support the AFC-led move.
According to Nagamootoo, the proposed no confidence motion is a potent weapon and the AFC means business.
He recalled that they consulted with APNU's leadership and agreed on a raft of measures they would take before triggering the no-confidence option. Firstly, he recalled, APNU's MP Carl Greenidge moved a motion of censure against Finance Minister Ashni Singh to have him tried before the Privileges Committee for contempt of the decision of the National Assembly for spending $4.5 billion without approval and in defiance of the order of parliament.
Secondly, Ramjattan filed a complaint with the Guyana Police Force for criminal prosecution of Singh for unlawfully spending or causing to be spent $4.5 billion contrary to specific provisions of the laws of Guyana. Thirdly, Nagamootoo said, the combined opposition proposed to approach the High Court for an injunction to prevent Singh or any other person acting on his instructions from further spending of tax dollars without approval by the National Assembly, and in violation of the Guyana Constitution. This has not been done.
Additionally, Nagamootoo said, the AFC sent a 10-point proposal to President Ramotar asking that the door of negotiation be left open and for talks on critical matters to take place before a constitutional crisis and a government shut-down. "President Ramotar would have known that the cards were stacked against him. He should have sought counsel in Dr. Jagan's recipe to break deadlock: make any compromise once it would not result in the loss of government," the AFC executive and former long-time PPP stalwart asserted.
"But Ramotar chose instead the anti-Jagan path: no negotiation; no compromise. He went further and assured that he could deal with the consequences which is no government," he said.
According to Nagamootoo, the no-confidence option is part of Guyana's pressure politics. "There was objective need to move the numbers game between government and opposition from that of 32 versus 33, to power politics.
In this case, it comes down to the Power of One. The majority of one has become the power ball. Momentarily, it may force government to hold local government elections," he asserted.
Referring to the Presi-dent warning Ramjattan that fresh elections will give government an opportunity to highlight to voters the AFC's "anti-development" voting patterns, Nagamootoo said that Ramotar "kicked the player not the ball" and "lowered his party's cuss-down politics to trench-bottom level."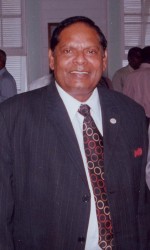 Ramotar has learned nothing from his recent jaunt to Brazil, the venue of the just-concluded World Cup that, in football, a player who kicks or cuffs another player would get the red card, which is how he sees the president's ad hominem assault on the AFC leader, Nagamootoo said.
"President Ramotar is the goalkeeper for the minority government. The ball symbolizes the corruption, lawlessness and incompetence of this government.
To prevent this ball from being placed inside the PPP's net, Ramotar has to do lots of defending. It is he, not Ramjattan or (Nigel) Hughes or Nagamootoo, who should explain why his government must not lose out in a penalty kick for a host of wrong-doings," he declared.
Nagamootoo said that the list of the PPP/C's wrongdoing include the failure to make the Integrity Commission fully functional to catch the corrupt officials; violation of the Constitution by not establishing the Public Procurement Commission to police billion-dollar contracts and the enrichment of a few with dirty money; the refusal to hold local government elections due 17 years ago, thereby destroying grassroots democracy; the sidelining of state funds to a government side-pocket via NICIL and not putting public monies into the Consolidated Fund; spending monies, most borrowed, on mega-projects not approved by parliament; and justifying billion dollar bail-outs in the face of massive failure of the sugar industry and electricity and uncertainty in the rice sector.
"Ramotar has to say why our hospitals lack beds and medicines, and essential care is not available to poor people and his government is borrowing billions to build a "specialty hospital" for what they called 'medical tourism'", he said. "How is he going to justify using up tens of millions (of) US dollars of taxpayers money to build a Marriott hotel and casino when pensioners get a measly handout of US$60 per month, and why people crossing the Berbice river bridge have to fork out over $2000 for a car, and government boasting that Berbicians should be happy to pay through their noses," Nagamootoo questioned.
"Rather than opting for engagement and reconciliation, the Ramotar regime has decided on cuss-down and confrontation.
The no-confidence option is gathering momentum and, to borrow the words of Martin Carter, "inevitably and inexorably," this hard-headed incompetent government would fall. I do not have a crystal ball but this I know: the dynamics of party power politics have changed with the population census," Nagamootoo declared.
One finding of the census was the decline in the population of Region Six, one of the ruling party's traditional strongholds.
Comments

Eighteen prisoners at the Lusignan penitentiary were being treated for injuries last night following a reported attempt to kill a fellow inmate during which warders fired shots.

A 12-year-old girl is now dead, while her brother narrowly escaped a similar fate yesterday after their aunt's La Bonne Intention (LBI), East Coast Demerara house, which they were under, collapsed on them.

Guyana has officially applied for membership in the European Union's Extractive Industries Transparency Initiative (EITI) which will help in tracking revenues from oil and other natural resources.

State Minister Joseph Harmon yesterday reiterated that President David Granger's directive to the Police Service Commission to halt its consideration of promotions was intended to prevent damage to the image of the Guyana Police Force but he could not say under what authority the head of state acted.

While saying that a strong security presence along the country's borders is the first line of defence against transnational criminal syndicates, President David Granger yesterday called for cooperation by all actors to see the security of Region Nine as a priority.