Probe into laptop thefts not completed but three suspended staffers back on the job
Three of the eight OLPF staffers sent on administrative leave in 2012 to facilitate investigations into the disappearance of 103 laptops are back on the job while the contracts for the other five have been discontinued and project officials are unable to give reasons for the decisions.
This was the information provided to the Public Accounts Committee (PAC) of Parliament yesterday by Office of the President (OP) Permanent Secretary Omar Shariff when he led a delegation before the committee to answer discrepancies cited in the Auditor General's 2012 Report.
He told the committee that the three employees were brought back to work on the One Laptop Per Family (OLPF) Project after six months of administrative leave.
He did not give the names of the rehired employees nor was he able to answer questions as to where they are currently stationed. He did say that they do not carry out the roles they held prior to being sent off.
Sources have informed this newspaper that the three staff who have been rehired are Sharon Greenman, Azariah Asim and Abdallah Hamilton. Asim is said to be functioning currently as a Deputy Project Manager, while Hamilton is reportedly a Warehouse Manager. There was no information as to where Greenman is now stationed.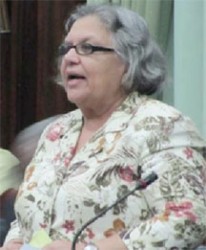 Shariff promised to supply this information to the committee at a subsequent date.
Committee members were surprised to hear of the development and PPP/C MP Bibi Shadick established that the three employees were rehired although the police have not completed their investigation, nor had the matter been brought to a conclusion.
Asked why the employees were rehired before the matter was concluded, Shariff could not provide the committee with an answer.
He also could not give an update on the status of the police's investigation into the matter. Shariff blamed this on the unwillingness of the police to share information on a more frequent basis.
Shariff was clearly inadequately informed on the matter as was proved by his constant consultation with one of his subordinates.
Noting Shariff's constant need to consult was slowing the committee's work, Carl Greenidge, who chairs the committee, suggested that he let his support staff speak to the issues.
PPP/C MP Odinga Lumumba asked Shariff if an internal investigation was carried out into the matter and he said such an investigation led to the initial decision to send home eight staff members.
Shariff said though, that the investigation did not establish culpability, and so he was hard-pressed to explain why three staff members were retained while the other five were let go.
In 2012, Cabinet Secretary Dr Roger Luncheon revealed to the public that as many as 103 OLPF laptops had disappeared over a three-month period from the warehouse at 267 Forshaw Street, Queenstown.
Most Read This Week