In 2008, lying on a hospital bed, his body wracked with coughing, renowned comedian Habeeb Khan sat up and declared that he was sent by God to make people happy. "I just like to see people happy," he said, a goal the comedy actor worked at over a long career.
Yesterday, Khan lost the battle to asthmatic bronchitis, passing away in his sleep at his Friendship, East Bank Demerara home. He was 78.
In the 2008 interview with Stabroek News, Khan had said that it was the biggest joke of his life that he started smoking at 12 years and was then suffering from respiratory problems. Then he joked, he was not ready for the Sandy's Funeral Home. But he was also saddened that he had not been invited to participate in CARIFESTA X when it was hosted by Guyana.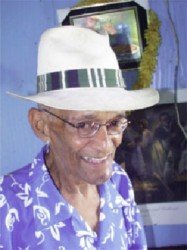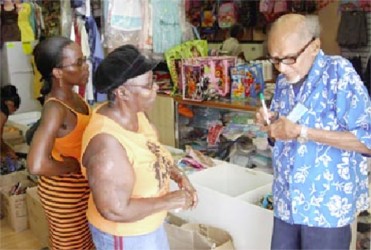 "He was born for comedy," his sister-in-law Jennifer Khan told Stabroek News yesterday. Describing him as "the country's best comedian," she said that Khan was awarded multiple times including one from Canada. His comedic ways were evident even at his home, when he lived in a fenceless house with a gate well secured by "a big chain and padlock," she recalled.
Khan was a comedian long before he became famous, Jennifer said. "He played dead many times on his father," she recounted saying that as a young man, Khan did so to avoid being scolded. No matter how many times he pulled the trick, Jennifer said Khan's father always rushed him to the hospital. She recounted too that when he was a child, he filled rainwater in bottles and sold it to unsuspecting customers pretending it was eye-drops since his father was an ophthalmologist. She said when the truth was out, everyone laughed about the trick.
Khan became a household name after he appeared in the local film "If Wishes Were Horses" as well as scores of television commercials inclusive of the unforgettable pawn shop commercial in which he placed the role of a patient who had lost his memory.
His niece Haleema Khan said that Khan was suffering from asthmatic bronchitis due to his smoking habit and died in his sleep. Haleema said that her uncle lived a happy, but humble and simple life. She recalled that he once told her that he had 16 children with about four women. She said that Khan has three sons all named Habeeb Khan Jnr.
Reflecting on his life, Haleema said though her uncle was a funny man, he was a loner. She explained that he became reserved after the death of her father and his older brother, who passed away a few years ago. "He was a true Guyanese," the saddened woman asserted. When asked about her memories of her uncle, she laughed heartily as she recalled him trying to teach her brothers how to spit far. "He could have spit far though," she reminisced.
"I live a simple life; on stage I am a comedian but off stage I just want to be me, a Guyanese. I am the product of a slave and an immigrant and I am very proud of my heritage. As we say in Creolese, 'Me ain't kay who black, who white, who pink, a nothing, once yuh born in Guyana, you is Guyanese and dat is me" Khan stated in an interview with the Sunday Stabroek in 2004.
At the time, Khan, who was born on June 15, 1936, said that his career as a comedian began from the moment he started crying after his birth. "My philosophy in life is that humour is the safety valve of piled-up emotions, and if you could laugh at a situation it can ease it," he said.
Khan said that he imitated his father as a child. "One day when I was eight years old, my father was carrying on and I started imitating him, and my father asked me if he behaved liked that, and I said yes, I am exactly you. So he [his father] went on to ask why I was exactly him, and I responded by telling him, 'like father like son.'"
Khan grew up in Queenstown, the only "half-black" man living in the area at that time. He went to a Roman Catholic Primary school, and then graduated to St Stanislaus College – though he doubts there are any records of that because he only spent two days there after they discovered he was Muslim. He finished his education at Central High School. He said that it was after graduation that he discovered how beautiful nature was because he had to be on his own.
Khan was also involved in many Guyanese satirical shows, including "Nothing to laugh about" and the Mor J' Von Comedy Jam. He was honoured for entertaining the regional industry for many years.
Comments

Eighteen prisoners at the Lusignan penitentiary were being treated for injuries last night following a reported attempt to kill a fellow inmate during which warders fired shots.

A 12-year-old girl is now dead, while her brother narrowly escaped a similar fate yesterday after their aunt's La Bonne Intention (LBI), East Coast Demerara house, which they were under, collapsed on them.

Guyana has officially applied for membership in the European Union's Extractive Industries Transparency Initiative (EITI) which will help in tracking revenues from oil and other natural resources.

State Minister Joseph Harmon yesterday reiterated that President David Granger's directive to the Police Service Commission to halt its consideration of promotions was intended to prevent damage to the image of the Guyana Police Force but he could not say under what authority the head of state acted.

While saying that a strong security presence along the country's borders is the first line of defence against transnational criminal syndicates, President David Granger yesterday called for cooperation by all actors to see the security of Region Nine as a priority.