Most UG students pursuing programmes which once cost $127, 000 yearly, as well as those planning on starting them, will be paying higher tuition fees come the beginning of the 2014/2015 academic year following the acceptance by UG's council of a fee adjustment.
In a release yesterday the University of Guyana (UG) informed the public that new Guyanese students will be required to pay $210,000 per year in tuition fees from the coming semester as opposed to the $127,000 previously paid. The $210,000 which would roughly equate to US$1,000 also includes a $50,000 facility fee. Meanwhile, "continuing Guyanese students will pay an incremented increase beginning with $130,000 in 2014, $145,000 in 2015 and $160,000 in 2015." In addition, they will have to pay the facilities fee of $50,000
The release said that the changes were proposed, but UG Vice Chancellor Jacob Opadeyi said yesterday that the numbers have been accepted and therefore confirmed.Iterating what UG officials have been saying for months, the statement said "when fees were reinstated in 1994, it was the understanding that adjustments would have been made to reflect the change in the exchange rates, the fee at the time was pegged at US$1,000."
In 1994 the exchange rate was $127 to US$1 and so the tuition was $127,000. Despite inflation though, the fee remained unchanged for twenty years. Though the adjustment will affect most students there are many programmes which will see tuition fees remain the same. These are the: Bachelor of Medicine; Bachelor of Surgery; Bachelor of Science Degree in Optometry; Bachelor of Science Degree in Medical Imaging; Bachelor of Science Degree in Nursing; Bachelor of Science Degree in Pharmacy; Bachelor of Science Degree in Rehabilitation Sciences; Bachelor of Science Dental Surgery; Masters of Science in Environmental Management; Post Graduate Diploma in Environmental Management- Climate Change Disaster Management and Natural Resource Management; Bachelor of Law, Commonwealth Master of Business Administration; Commonwealth Master of Public Administration; Masters in Education; Bachelor of Arts Degree in tourism Studies and the Associates Degree in Tourism Studies.
The above mentioned programmes will, however, attract the $50,000 facilities fee. Foreign students attending UG will also not see their tuition fees increased, but they too will be required to pay a facilities fee of US$250.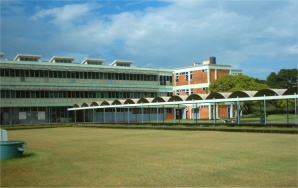 UG administrators say "the fee adjustment has become necessary due to the rising cost of providing quality education not only in Guyana but worldwide. Additionally, inflation has negatively affected the allocation to the University from the government, making the current tuition fees paid by students unsustainable and unrealistic."
Prior to this move UG held consultations with various stakeholders including current and prospective students, and UG's academic and support staff. Other stakeholders consulted include the members of Guyana's private sector. UG's current students were particularly skeptical of adjusted fees.
A second year Student-at-Law had noted that many of UG's issues were caused by managerial lapses and asked whether UG's administrators can guarantee that such lapses would not occur again once fees are raised. Opadeyi had said that the consultations would inform the way forward with regard to the adjustment of tuition fees.
It is uncertain what aspects of the adjustments were affected by the consultations, although it was noted that the President of the University of Guyana Student Society (UGSS), during the consultations, suggested that current students be allowed to pay the adjustment incrementally as opposed to being saddled with the increase all at once.


UG says the added revenue garnered "will be used to create new academic services and facilities, help hire new faculty and improve programme offerings. In general, to improve the quality of services offered by the University." The fact that many students have difficulty financing studies at the tertiary level was noted, but UG argues that "we can only continue to deliver to our students if the university is able to cover its operational costs."
What the release did not address though, is whether the Ministry of Finance will be offering higher loans to cover the adjusted fees. Neither the Minister of Finance, Dr Ashni Singh, nor the Finance Secretary, Neermal Rekha, could be reached yesterday to answer this question. Registration for current and new students for the coming academic year is expected to commence Tuesday July 29th.




Fees for Foreign Students. Fees include US$250 facilities fee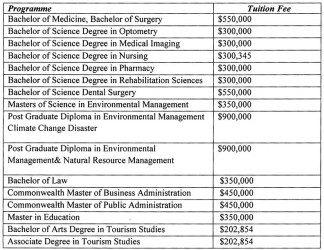 Comments


The National Accreditation Council of Guyana (NAC) is advising the public that the American Medical Institution is not registered with the NAC as is legally required for post-secondary and tertiary educational institutions operating in Guyana.

Fifteen city councillors voted yesterday in favour of accepting the recommendations of the parking meter renegotiation committee, which would see a reduction in parking fees to $150 per hour, exemptions for religious organisations and schools, and Smart City Solutions (SCS) giving up on their claim to garage parking.

A GDF rank was yesterday remanded to prison over three armed robbery charges and alleged possession of an unlicensed gun and ammunition.
Minister of Natural Resources and Leader of the Alliance for Change (AFC), Raphael Trotman on Monday praised ExxonMobil for investing in the oil sector here and said it is now resulting in other important companies wanting to do business here.

The city lance corporal, who on Sunday allegedly shot and killed Marlon Fredericks, a mentally-challenged vendor, after he reportedly attempted to flee custody is to be charged with manslaughter.