Bandits carted off $810,000 cash and about $200,000 in gold jewellery after breaking into a house at No 10 Village, West Coast Berbice on Tuesday.
Amanda Arjune, 24, who operates a store that sells electrical appliances, said the money was supposed to be used to make purchases yesterday morning. Police are currently looking for a suspect.
Her husband, Rajeshwar Ariune, a refrigeration technician said he had only recently invested some money in construction materials.
In fact, he and Amanda along with their three young children left home around 11 am for the Corentyne to drop off her relatives who were helping with the construction when their house was invaded.
He recounted that around 3 pm he received a call from a man who said "he was standing in front of my house" and wanted to know if Arjune could go to his house at Tempe that afternoon to re-gas his fridge.
Ariune responded that he would not be back early and arranged to go the following morning. The man also wanted to know the cost but Arjune said he would have to "see the work first."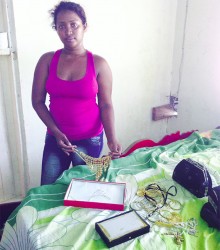 He subsequently received a call around 4 pm, this time from a neighbour who told him that the grill gate to his shop was open.
He became worried and sent the neighbour to see if the padlock was still there.
After learning that the padlock was off, he called his mother who lives at Bath Settlement to check and she confirmed that there had indeed been a break-in.
When he arrived he checked the extent of the loss and then informed the police at Fort Wellington. They conducted investigations and dusted for fingerprints.
Arjune decided to call the man who wanted him to fix the fridge and asked him for directions to his house. The man promptly told him that he had already gotten someone to do the job and disconnected the call. After that his phone was turned off.
"I don't believe the man had any fridge to fix," the distressed Arjune told this newspaper.
He just wanted to know the time span he had to rob my place."
After entering the store, the bandits broke another lock to enter the house and used an inner step to gain access to the top flat.
They then wrenched open the lock on the wardrobe door and took out the money which was in a bag. The room was still ransacked when this newspaper visited yesterday.
A large quantity of Indian costume jewellery and empty jewellery boxes and hand bags were among the items scattered on the bed and floor.
The couple said since they moved to the village in 2011 this was the 10th time they were robbed. It was also the first time that the police showed up.
At one time while they were asleep someone broke into their house and carried away cash and a quantity of groceries they had purchased for a religious function.
The following morning they discovered a burnt out mosquito coil on the stairs and realized that the bandit must have waited there until they fell asleep.
Meanwhile, they said owners of the empty lots have allowed the bush to grow very big and they would have to pay to have it cleared at times.
Residents complained to the Neighbourhood Democratic Council about the bush and they eventually sent an excavator to do some cleaning.
Comments

(Trinidad Guardian) Fifty five years after it was formed by legendary calypsonian Lord Kitchener, the Kalypso Revue tent is set to close due to financial constraints.

Finally honouring a court decision, the New Building Society (NBS) yesterday afternoon wrote a $59,033,000 cheque to former manager Maurice Arjoon for pension owed, after his lawyers attempted to levy on the assets of the bank, which then locked the doors of its Avenue of the Republic headquarters with customers and others inside.

A Diamond resident was yesterday remanded to prison after being charged with the death of Ishwar Ramanah, the Kaneville machine operator who was fatally shot during a robbery at his home last month.

A Sisters Village shop owner and his wife were seriously injured on Monday evening when they were attacked by cutlass-wielding bandits, who robbed them of the day's sales.

Although the Government of Guyana has paid more than $26 million for the Commission of Inquiry (CoI) into the education system, its final report has not been submitted after nearly two years.