Candidate for leadership of the PNCR, Sharma Solomon yesterday said he represents the change that the party needs but added that his chances of victory depended on the circumstances under which the will of the people is expressed.
His remark would be seen as a reference to longstanding concerns about the integrity of voting at PNCR congresses and more recent qualms about voting cards for party members.
In what will be seen as a criticism of the stewardship of incumbent David Granger, Solomon also warned in a statement about the PNCR losing direction and individual rights being denied in the party. The point about individual rights appears to be a reference to a party charge levelled against fellow Lindener, Member of Parliament Vanessa Kissoon who has said Granger acted unconstitutionally in suspending her.
Noting his nominations for the positions of Leader, Chairman, Vice Chairman and Committee Member, Solomon said he was humbled by the confidence shown in him.
Adding that his chances of being elected at this weekend's biennial delegates' congress are very good, Solomon however cautioned about voting conditions.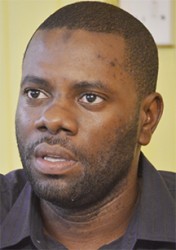 "The reality is though, that my chances for being elected are not only hinged on the will of the people but the circumstances under which these are expressed. I would encourage all who support change to safeguard their democracy within the party the same as we seek to safeguard it nationally and as other parties in other nations do also. The PNCR is the only party where such democracy exists and we must constantly safeguard it", Solomon stated.
On the attributes he could bring to the executive, Solomon cited leadership by example. Solomon, who burst onto the national scene two years ago amid the Linden unrest over electricity tariffs, said that his record speaks for itself. He adverted to integrity, keeping his promises to people, communicating with them and respecting diverse views.
Solomon, also the Chairman of Region Ten (Upper Demerara/Upper Berbice) then criticized the direction of the party.
"The party is losing this direction and focus where the constitution is being violated and individual rights denied.   At the national level we see so much violations, we condemn them. Our party must not now after setting such examples and with such internal democracy undermine the very pillar upon which it advocates for change in society. We cannot embrace what we condemn.  I am prepared to offer leadership (better representation) consistent with the constitution, individual rights and fairness as the party moves forward, Solomon asserted.
Solomon, 34, who would also be challenging longstanding PNCR member Aubrey Norton for the leadership of the party, emphasized youth leadership. He said that he offered youth and dynamism with a respect for wisdom and maturity.
"I offer respect for the people, and a promise for consultative processes. I offer incisive leadership both in the party and in the nation where the masses need a champion for their many causes and the creation of balance in our society.  I offer good governance within the party.
Those are all issues of decision making of which age is among the least significant factor", he declared.
On the question of the party's old guard, Solomon said that the past had constructed the foundation that the party was now standing on.
"The old guards form an integral part of our party history and growth. We can and will continue to learn from their wisdom, experiences and their mistakes", he stated.
He also signalled a flexible view on the PNCR remaining in opposition coalition APNU. He said ultimately party members would have to decide this but he added he would like to see the relationship under constant review. As the leading partner in the coalition, he said the PNCR has to ensure that its interests are served consistent with the needs of the party and the people.
He called for the issue of racial polarisation to be addressed frontally.
"Racial polarisation affects everyone and everyone must be prepared to confront it wherever it exists, whether it is in the church, Masjid, Temple, school, political parties, or businesses.
Laws alone will not change it; it requires education and increasing sensitivities to build trust, tolerance and understanding of each other. We cannot survive and develop in a country where one set of people, or where any set of people are oppressed based on racial and ethnic differences", he posited.
The congress is coming at a time of increasing tension between party headquarters and the Region 10 party group over the treatment of Kissoon and an attempt to assign a party coordinator for the region.
Comments

Fifteen city councillors voted yesterday in favour of accepting the recommendations of the parking meter renegotiation committee, which would see a reduction in parking fees to $150 per hour, exemptions for religious organisations and schools, and Smart City Solutions (SCS) giving up on their claim to garage parking.

A GDF rank was yesterday remanded to prison over three armed robbery charges and alleged possession of an unlicensed gun and ammunition.
Minister of Natural Resources and Leader of the Alliance for Change (AFC), Raphael Trotman on Monday praised ExxonMobil for investing in the oil sector here and said it is now resulting in other important companies wanting to do business here.

The city lance corporal, who on Sunday allegedly shot and killed Marlon Fredericks, a mentally-challenged vendor, after he reportedly attempted to flee custody is to be charged with manslaughter.

Former Magistrate and Univer-sity of the West Indies (UWI) lecturer Christopher Arif Bulkan was yesterday sworn in as a temporary Appellate Judge by President David Granger who said that the appointment is part of efforts to ensure that justice is dispensed in an efficient and timely manner.