In a spirit of civil engagement and democracy, youth activists yesterday delivered a letter to the Ministry of Culture, Youth and Sport seeking to be engaged in discussions on the delayed National Youth Policy (NYP).
Speaking with reporters in front of the ministry's Main Street office yesterday, the group expressed disappointment that specifics on the progress of the policy have not been forthcoming. They were concerned that the process which commenced approximately a year ago, from every indication, appears to be at a standstill.
The contents of the letter submitted by the young people identified the four areas in which they would like to engage the Ministry including establishing "a framework for engagement with the Ministry towards expeditiously producing a document that can be presented to all stakeholders on or by International Youth Day slated for August 12, 2014."
The young activists made it clear that they, amongst others, stand ready to support the ministry to take the process forward, and to do so at no cost as this is an investment in their future as well as that of their children. "This isn't a Georgetown thing, this is an all-Guyanese thing. It is not political, and has nothing to do with race…we are young people, and Guyanese, we want to provide a bright future here where we are not taken for granted," an emotional young man said.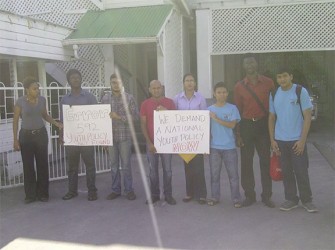 According to the letter, in a country where over 50% of the population can be categorized as youth, policies are critical in recognizing the unique issues faced by this group and presenting solutions for these issues.
Over the past few months, there have been many cases reported by the media on many crimes perpetrated against and by young people. Youth policies recognize these issues such as crime, abuse, suicide, unemployment, illiteracy and poverty, and have an accompanying action plan for governments, NGOs and other stakeholders to work collectively to tackle these, they said.
The youths said that between 1992 and 2014, there have been multiple attempts on the part of the Ministry to present a strategic youth development plan through a youth policy and they would have engaged local, regional and international stakeholders and donors to do so.
This most recent process, supported by the Commonwealth Youth Programme Caribbean Centre (CYPCC) and the United Nations Children's Fund (UNICEF) solicited feedback from young people in various communities around Guyana to design a comprehensive policy to target the realities of young Guyanese from all walks of life.
In October 2006, the then newly appointed Minister Dr. Frank Anthony spoke of his intentions to review and the re-creation of a National Youth Policy as a strategy towards development of the nation's youth.
In 2011, two young people lobbied the government over the lack of forward movement towards a cohesive policy and in July of that year, Stabroek News quoted the Minister as saying that "Guyana's National Youth Policy is expected to be finalized before the end of this year."
Three years later, the policy document is once again in the second draft. The position of these youth activists is that "whatever stymied the previous attempts at a National Youth Policy cannot be repeated, and a clear plan with explicit deadlines and indicators need to be established for the finalization of a draft NYP document."
A coalition of youth NGOs and concerned young people have begun an initiative that they intend to keep up and have planned a series of advocacy initiatives and awareness efforts that they plan to implement until the day the NYP of Guyana comes to fruition.
Comments

Jerry Lewis   LOS ANGELES,  (Reuters) – Jerry Lewis, the high prince of low-brow comedy on stage and in movies as well as a fund-raising powerhouse with his annual Labor Day telethon, died today of "natural causes" at the age of 91, his family said.

Beharry Automotive Limited (BAL) , the authorised distributor for Toyota parts and lubricants, says that an abundance  of imitation Toyota parts and lubricants have entered the market with the Toyota logo and trademark.

Grace Mugabe   HARARE,  (Reuters) – Zimbabwe's first lady Grace Mugabe returned from South Africa early today, state media reported, after a 20-year-old model accused her of assault in an upmarket Johannesburg hotel room.

Michael Bhopaul, 16, doesn't know if he is this year's best performer at    the Caribbean Secondary Examination Certificate (CSEC) Examinations, but with preliminary results showing that he has obtained passes in 25 subjects, he will be hard to top.

Inmates at the Lusignan Prison turned over 33 improvised weapons yesterday morning to prison authorities, who say that they also apologised to the prison staff for the unrest at the facility on Friday night.