Power returned to Bartica yesterday afternoon, but residents said they were shocked earlier when Guyana Power and Light Inc Chief Executive Officer Bharat Dindyal called them lazy, telling them that what they pay is but a fraction of the cost of the fuel required to run the generators that supply them with electricity.
Several residents told this newspaper that Dindyal made the remarks when he visited Bartica yesterday morning, after two days of protest prompted by constant power outages in the community. Numerous calls to Dindyal by this newspaper went unanswered yesterday.
Bartica has been hit by a series of power outages over the past three weeks, residents said, while with GPL officials claimed it was only for a few days. GPL said the two generator sets had malfunctioned.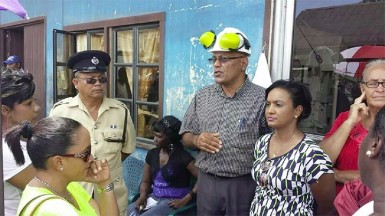 According to a leader of the protest movement, Kamal Persaud, Bartica has been without electricity for 48 hours at a time and residents have been complaining bitterly about the effects the prolonged power outages have had on their lives. Businesses have been losing by the hour, many of their perishable items, amounting to millions of dollars in losses. She added that prior to that, there was another that had lasted for some 72 hours, which caused untold suffering to residents, who had not been compensated in any form by the authorities.
Another resident, Trevor Marques, said the authorities are not representing them on the issue. He called out the Regional Democratic Council and the Interim Management Committee (IMC), which would have replaced the democratically elected Neighbourhood Demo-cratic Council (NDC) for not playing any role in organising or even participating in the protests.
Contact was made with Public Relations Officer of the IMC Sherwyn Downer, who said that no one had approached the IMC regarding the issue but the IMC stands in solidarity with the people of Bartica in their plight. He continued, "We are calling for the resignation of the management of GPL and we want to see the electricity woes affecting Bartica be rectified immediately."
Barticians are also requesting that their July electricity bill be waived by GPL as a form of compensation for the inconvenience.
Resident Latoya Schultz said the group has been protesting for three days now and will continue to demand an improvement of the situation until it is delivered. She said that when Dindyal arrived he did not want to speak to the crowd but requested that six persons approach him to discuss the matters affecting them. She said the CEO apologized instantly for the blackouts but after being faced with uncomfortable questions became angry.
She explained that an individual had asked why GPL was only contracting MACORP to effect repairs to the generator, and this was what prompted him to call the people of Bartica lazy. This remark, she said, stirred the crowd and the atmosphere became rowdy.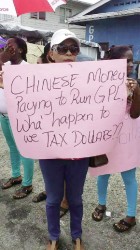 The CEO was also asked why new engines were not being bought instead of repairing the old ones, to which he responded, in summary, that it cannot be afforded. He continued that Bartica residents pay 0.0001% of the cost to fuel the generators that provide them with electricity and that a Chinese subsidy was what covers the cost.
Someone then asked why they had to pay at all if the Chinese were funding it and this apparently further angered the CEO who tried to leave. However, he was stopped by a member of the private sector, who shared information regarding the cost to purchase a new generator, dismissing the CEO's claims that it cannot be afforded.
Another individual then asked why not purchase Blackstone generators, to which Dindyal rebutted that the Chinese don't make Blackstone generators.
At the end of the back and forth, the CEO told the residents that the problem had been identified and electricity would be restored by 3 pm yesterday. However, power was not restored until approximately 5 pm, with residents doubting that it would stay on throughout the night.
President of the Guyana Women Miners Association Simona Broomes said that the CEO's remarks were unbecoming of a man of his stature and he owes the people of Bartica an apology. She noted that the residents had been suffering from days of blackout and for him to go and say something like that was just plain distasteful. She added, "Persons are calling these protests but it's a people move to address a people crisis."
She repeated what she had said before about GPL providing "fairy lights" electricity to the community for years, destroying items stored in refrigerators and freezers and damaging appliances. She said investigations had revealed that many of the generators sent to the community were "old, run-down equipment, which would have already been used in Georgetown and which contribute to the poor electricity supply".
Comments

Following an outreach in Lethem today, President David Granger (centre at left side of table) held a  high-level security meeting with a number of officials including Guyana Defence Force Chief of Staff, Brigadier Patrick West (third from right on right side of table) and British security sector reform advisor Russell Combe (second from right on right side of table) among others.

The Guyana Power and Light (GPL) says that just after midday today, three armed bandits stormed its Parika Customer Service Centre; robbing the location of all revenues received up until that time, holding the  staff and customers at gun point and disarming a security guard of a gun.

The Management of Cheddi Jagan International Airport Corporation (CJIAC) is currently undertaking a massive expansion project  and a Temporary Arrivals Terminal Building was recently constructed.

Tourism Minister Shamfa Cudjoe announced the decision to close the company. (Trinidad Express) The Tourism Development Company (TDC) has ceased operations.

Cevons clearing city garbage WPA STATEMENT ON THE UNRESOLVED ISSUE OF GARBAGE COLLECTION IN THE GEORGETOWN MUNICIPALITY The WPA is deeply concerned that the Georgetown City Council's inability to honour its financial obligations to Cevons Waste Management and Puran Brothers has the potential of endangering the health and lives of citizens.