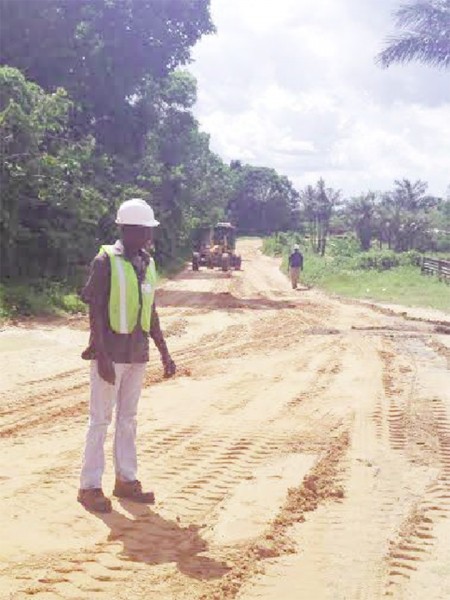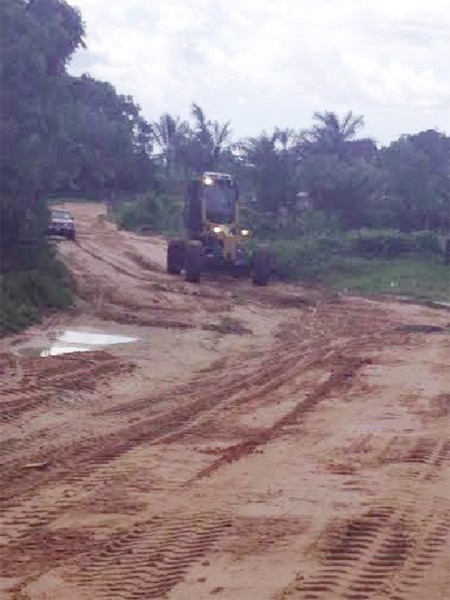 The emergency work to fix a one-mile stretch of the Bartica/Isano road, Region Seven (Cuyuni/Mazaruni) is 25 percent completed, the Ministry of Public Works said yesterday.
In recent months, residents of Bartica have complained bitterly about the road and there have been protests.
On Thursday, Lawrence Mentis, the engineer overseeing the project; Naeem Mohamed, the Ministry's hinterland engineer and Lloyd Rollins, Maintenance Supervisor, inspected the progress of the project which started on July 14, 2014, a release from the Ministry said.
Mentis said that $25M approved in the Ministry's 2014 budget is being utilized to carry out the rehabilitation works. The Force Account Unit within the Ministry is executing the project.
While the road is five miles long, the most impassable section is being rehabilitated with a part concrete/asphalt and part coal mix. The Ministry is seeking funding from Central Government to repair other sections of the heavily trafficked road, the release said.
Keith Blair Chairman of the United Minibus Union, Bartica Branch, was quoted by the release as being satisfied with the project.
"The progress is encouraging. I speak for myself and the community and we are very happy with what is going on," Blair was reported as saying.
Comments

Legal Advisor to the Police, retired Justice of Appeal, Claudette Singh yesterday testified that there was insufficient evidence in the allegation made by Andriff Gillard of an alleged plot to assassinate President David Granger.

Today at 2 pm the 30 councillors of the Georgetown City Council will once again cast a vote on the future of metered parking in the city and several of them have told Stabroek News that they want to be sure their vote accurately represents a mandate from residents.

Crime Chief Wendell Blanhum yesterday made a written request to be recalled before the Commission of Inquiry (CoI) investigating the allegation of a plot to kill the President of Guyana to defend himself against "appalling" statements made by Assistant Commissioner of Police David Ramnarine.

Two men were yesterday remanded to prison by a city magistrate after they were charged with the fatal stabbing of Rawle Rodrigues which occurred in January.

Amid accusations that he has improperly tried to direct a constitutional commission, President David Granger said he had asked for a delay in police promotions to address complaints that have been made against law enforcers.