The People's National Congress Reform (PNCR) says that an investigation has been launched into a gunshot during its tumultuous 18th Biennial Congress yesterday.
Leader of the party David Granger told Stabroek News that the Police will be notified of the report also. A statement issued by the party last evening referred to an "explosive sound" being heard but said nothing else.
No one was injured as a result of the shot though many said that they were traumatized by the ordeal.
Sometime shortly after noon yesterday delegates at the congress were sent scampering for cover after many reported a man pulling a gun and firing a single shot into the ground of the facility.
"During the whole commotion this man (name given) pull out he gun and fire in the ground and everybody started running …of course me and all run and duck for cover cause bullet don't have eyes but I kept my eyes on he to see what other move he making," a delegate and eyewitness told Stabroek News.
The eyewitness related that the shot was fired during the voting process after several persons charged an area with tables because they felt that grievances of not being able to vote were not being addressed.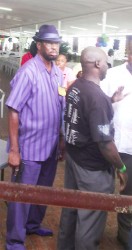 "Some persons from Linden were shouting and complaining, asking why they could not vote and started saying that the whole thing is foolishness…lots of noise and confusion.,. Some officials started to quiet them down but they were angry bad …maybe somebody pushed one and it domino into the whole crowd charging forward…I was hit in my back and my spectacles nearly fall off," the eyewitness said.
A photo provided to this newspaper shows a man still with gun in hand after the area was cleared.
When this image was shown to returned party leader Granger yesterday at a post Congress press conference he said, "The person whose image is there might have been engaged to secure the returning officer's staff, not by Congress Place…the returning officer and his staff were separate from the congress admin they were independent so I was not aware of that person being recruited to secure any function…he was part of the returning officer's security team".
Further, Granger explained that various duties of the congress were delegated to specific persons and that he was not directly involved but would be given periodic updates.
Asked if he was scared when he heard the sound, a bemused Granger stated that he was not and that he was confident that he was secure.
Party Chairman Basil Williams later pointed out that the firing of a firearm had never before happened during the party's congresses and he too was shocked.
He added "I am a licensed firearm holder and I didn't walk with my firearm. I felt good enough to come to this congress without my firearm".
Comments

LONDON, (Reuters) – The gradual decline of West Indian cricket is hardly a new phenomenon but the latest capitulation of a once-dominant test match power has brought genuine expressions of sadness throughout the sport.

Eleven residents of the juvenile correctional centre at Onderneeming on the Essequibo Coast were apprehended between yesterday and this morning.

With growing pressure on the government over the overcrowding of jails, MP Michael Carrington is confident that the parliamentary bill in his name to ease penalties on marijuana use will gain the support of the governing APNU+AFC benches of which he is a member.
The National Toshaos Council (NTC) is to begin its conference today and high on the agenda will likely be ongoing concerns about the lands commission of inquiry (CoI) which the government has convened.
A Trinidad-based medical products company has secured four contracts worth $135.4m. According to the Ministry of the Presidency (MotP), Cabinet at its meeting on August 15,2017 noted the award of 16 multi-million-dollar contracts.