The bodies of two Corentyne fishermen, who went missing after an alleged pirate attack at sea, yesterday washed ashore in Bush Lot, Berbice.
The captain Deownanan 'Rajesh' Ravindranauth of Crabwood Creek and his four-man crew left for sea two weeks ago and were expected back 11 days later. However, their boat, Miss Seema, was discovered empty last Thursday.
Yesterday, the bodies of Omesh Durhup, 36, of Skeldon and Naresh Persaud, 22, of Number 72 Village were found on the foreshore in Bush Lot. Officers from Whim Police Station contacted Durhup's relatives and the owner of the boat around 2 am.
They were told that a body was discovered at the Bush Lot Foreshore.
When Durhup's mother arrived at the spot around 6 am, she discovered that a piece of black cloth had been tied over his eyes.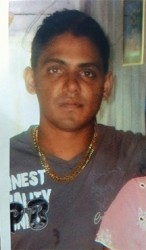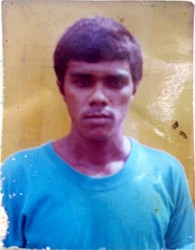 Later, Persaud's body washed up and he was identified by a red striped shirt he was wearing. The shirt was pulled over his head and his body was in an advance state of decomposition.
Other fishermen related that they saw another body floating in the water but did not retrieve it. A search team is expected to return to sea and comb the water with the hope of finding the others.
According to a police statement, a post-mortem examination performed on Persaud's remains by Dr Vivekanand Brijmohan gave his cause of death as due to multiple injuries.
The findings of Durhup's autopsy are yet to be released. However, their bodies were interred at a cemetery in Babu John, Port Mourant.
Ravindranauth, Ramesh Persaud, 19, of Number 72 Village and another man known, only, as Prakash remain missing.
When contacted yesterday, the relatives of both Persaud and Durhup were too distraught to speak.
According to reports, the men left for sea on July 10 and were expected back in 11 days. But 11 days passed and they did not return, leaving relatives worried.
Four days later the boat was found on the Whim Foreshore. Two caps belonging to the two Persaud brothers were in the boat.
The fish from the fish pen, a diesel drum, the seine, groceries and a stove were gone. The engine, however, remained intact.
Comments

Dawn Hastings-Williams President David Granger, today, announced that Minister within the Ministry of Communities,  Dawn Hastings-Williams will assume the portfolio of Minister of Public Affairs in the Ministry of the Presidency with effect from September 1, 2017.

President David Granger, earlier today, attended the wedding reception of Minister within the Ministry of Communities with responsibility for Housing, Valerie Patterson- Yearwood and .

Grace Mugabe   JOHANNESBURG,  (Reuters) – South African police confirmed on Wednesday that Zimbabwean first lady Grace Mugabe remained in the country and had applied for diplomatic immunity after being accused of assaulting a 20-year-old model in an upmarket Johannesburg hotel.

Daniel Craig   LONDON, (Reuters) – British actor Daniel Craig has confirmed he will reprise the role of James Bond one last time, ending months of speculation.

UN experts condemn racist violence in U.S., urge investigations GENEVA, (Reuters) – United Nations human rights experts called on the United States today to combat rising racist violence and xenophobia and to prosecute perpetrators of hate crimes.