Region 10 Chairman Sharma Solomon yesterday said despite the rift torn between the PNCR and some Linden groups in the recent weeks, he and other "disenfranchised" members remain committed to the party and to working to ensure the grievances are resolved.
"The developments that occurred at the party's Congress are now part of the past which we must now put into perspective, review and work diligently to prevent in the future," Solomon declared yesterday during a press conference at the Critchlow Labour College.
"…We are faced with the task of moving forward, mending our rifts, of correcting our weaknesses and building on our strengths to face the national challenges that go over and beyond the challenges we face internally," he also told reporters, while adding that Linden supporters will continue to "challenge the party when and where necessary, not to destroy our party but to build its ability to deal with dissent, challenges and changes."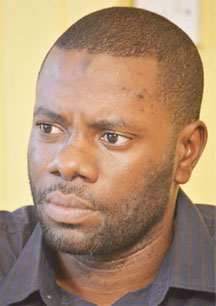 Solomon indicated that he was at the time speaking on behalf of Vanessa Kissoon, Leslie Gonsalves, and other aggrieved Lindeners.
These statements may come as a surprise to many who might have felt that Solomon's, Kissoon's, and Aubrey Norton's grievances will translate to a peeling away of at least some of the Linden support from the PNCR, especially as Norton, who dropped out of the race to be the party's leader owing to a lack of confidence in the accreditation process, signalled that he may give thought to whether he has a future in the party.
Accreditation woes
Solomon yesterday also noted that there were issues with the accreditation of delegates from Linden months before frustrations boiled over on Saturday and again on Sunday. Despite efforts to address these issues, he said, they remained unresolved and this led to Norton pulling out of the race to be party leader.
Solomon, who was also nominated to challenge Granger for the party's reins, yesterday said that he decided to pull out late last week after deciding that the concerns of the Linden groups, including the accreditation of its delegates, had not been properly addressed. This, he said, was expressed to a meeting of 250 people during a meeting on Thursday.
Solomon said that because the issue of delegates was not addressed, the region is still unable to say exactly how many delegates it should have had accredited. He said these and other issues remained contentious despite efforts over the last two years to resolve them. "Region 10 is committed to have all outstanding issues over the last two years addressed by putting in place acceptable modalities. These include the electoral processes and other pressing internal matters that gave rise to the chaos, long before Congress was convened," he noted.
According to Solomon, the PNCR is still seen as the vanguard party in which members are allowed to challenge their leaders and he said leaders need to get accustomed to such challenges. PNCR member Carl Greenidge, who himself challenged Granger for leadership in 2012, had said on Sunday that there is a feeling that once there is a leader there should be no challenger. Such a notion, he said, is flawed.
Solomon says that the party has systems which makes provisions for the participation of all party members and lamented that such systems have been intentionally violated. He therefore holds that the violators be determined and held accountable to ensure that the constitution is always honoured.
"The PNCR though shaken by this recent chaos must grow from these experiences," the Regional Chairman said.
Solomon added that Region 10 remains committed to leadership by example and the PNCR, which he said has the means to show how good governance is intended to be. "The people of Region 10 demand this of the PPP/C government. We demand it of our party! We demand it for all Guyana. It is what we deserve. It is the progressive, democratic way forward. It must represent the New Guyana where leaders are held accountable at all levels," he added.
Kissoon/Clarke dispute
Last Tuesday representatives of the PNCR's Linden groups, led by Region 10 Councillor Gonsalves, expressed dissatisfaction with the way the party was dealing with the dispute between Kissoon and party General Secretary Oscar Clarke. The two reportedly had an altercation during which both of them expressed unsavory sentiments.
But instead of convening a disciplinary committee to deal with the matter, in accordance with the party's constitution, its executive committee opted to endorse an earlier decision by party leader David Granger to suspend Kissoon. A disciplinary committee was only set up after the matter ended up in the media and Granger maintains that the actions taken against Kissoon were in accordance with the party's constitution, despite Kissoon's firm stance that they were not.
Not only has the party been criticised for the perceived unjust way Kissoon has been suspended but there are also concerns that he disciplinary committee which is hearing the matter is made up of executive members of the party who participated in the decision to suspend her without due process.
During Congress proceedings, Clarke refused to shake Kissoon's hand, saying she was illegitimately present, although she was subsequently provided with a delegate's card by senior party member Winston Felix.
Granger told reporters on Sunday night that Kissoon's suspension was temporarily lifted for her to participate in the Congress.
When Stabroek News called him yesterday, however, he said that while he "may have said" that the ban was lifted he could not revisit the topic as he did not have a copy of the recommendations of the disciplinary committee with him. He added that whatever decision was made in Kissoon's case was in accordance with that report, which was submitted last week.
Comments

Vamanadev Hiralall, of the privately-run Saraswati Vidya Niketan (SVN), is the country's top performer at this year's Caribbean Advanced Proficiency Examinations (CAPE) after achieving an accumulated 13 grade one and 3 grade two passes.

Twenty-six students in the top one percent of the 12,684 who sat this year's Caribbean Secondary Education Certification (CSEC) examinations earned 12 or more Grade I passes, with half of them, including the top performer, coming from Queen's College (QC).

On the second day of the Commission of Inquiry (CoI) into African ancestral lands and other matters, four witnesses made cases for the return of lands they feel they are rightly entitled to, which were either taken by the state or occupied by private owners.

Shelton George, the man charged with both murdering a waitress at a Chinese restaurant and the attempted murder of a magistrate, was found dead in his cell at the Lusignan Prison yesterday morning.

The Chairman of the Triumph Neighbourhood Democratic Council (NDC) yesterday instructed workers employed on a private site, reportedly intended to build a first-floor pool, to cease operations, just two days after residents called on authorities to halt its construction.