Rodney CoI acquires British diplomatic exchanges during 1980
The Walter Rodney Com-mission of Inquiry (CoI) has secured a bundle of correspondence which represents exchanges between the British High Commis-sioner and his superiors in the UK about the political situation in Guyana during 1980, according to lead Counsel Glenn Hanoman.
Hanoman when approached yesterday told Stabroek News that the bundle which consists of approximately 100 pages was purchased online from the British National Archives. He was unable to provide a price tag for the purchase.
He said that the purchase came about as a result of the secretariat's investigations and after an application was made to the British government. He said that the Secretariat was able to ascertain that there is a system in place where documents can be purchased from the country's national archives.
The attorney went on to explain that the then UK High Commissioner Philip Mallet in the correspondence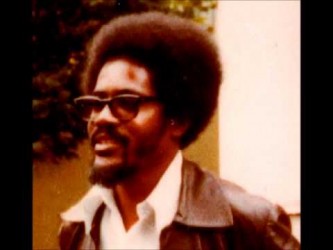 spoke about the political atmosphere in the country before and after the 1980 death of political activist, Dr. Walter Rodney. Mallet died in 2011 at the age of 85.
According to Hanoman the intention of the commission is to introduce the bundle into evidence and to share it with all the parties participating in the CoI during this round of hearings which ends next Thursday. He said too that he himself has gone through all the correspondence.
He added that the Secretariat attempted to get similar information from the US Embassy but was unsuccessful. He stressed that in spite of this they will continue to try and would not give up.
On June 13, 1980, Rodney, a renowned academic and political activist, died in a car near John and Bent streets after a walkie-talkie, given to him by now deceased Guyana Defence Force member Gregory Smith, exploded. His brother Donald Rodney who was with him at the time, escaped serious injury.
The PNC administration, then headed by late president Linden Forbes Burnham, whose reign had been opposed by Rodney, has long been blamed for the murder. The party, however, has continuously denied any responsibility. The current PNCR has publicly said that it will not be cooperating with the CoI.
In addition to looking at the circumstances surrounding the death, the commissioners are also tasked with examining the role Smith played if any, examining earlier investigations and inquiries done on and into Rodney's death and they are to examine and report on the actions and activities of the State, including state agencies, such as the Guyana Police Force, the Guyana Defence Force, the Guyana National Service, the Guyana People's Militia and those who were in command and superintendence of them, to determine whether they were tasked with surveillance of and the carrying out of actions and whether they did execute those tasks and carried out those actions against the political opposition for the period January 1, 1978 to December 31, 1980.
Most Read This Week