Kevin George and Samuel Johnson, the two teens charged after being found with an unlicensed M-16 assault rifle, a quantity of matching ammunition and grenades on Aubrey Barker Road, South Ruimveldt in January this year, were yesterday each ordered to serve three-year jail sentences.
Chief Magistrate Priya Sewnarine-Beharry, who presided over their trial at the Georgetown Magistrates' Court One, also fined George, 18, and Johnson, 17, $100,000 each.
The magistrate handed down a three-year prison sentence for each of the two charges of unlicenced gun and ammunition possession, but explained that the sentences will run concurrently. The grenade-possession charges against the duo had been previously struck out.
George, of 21 Castello Housing Scheme and Johnson, of 158 Curtis Street, Albouystown, were found guilty after their trial was completed recently but sentencing was deferred until yesterday to facilitate a probation report on the teens.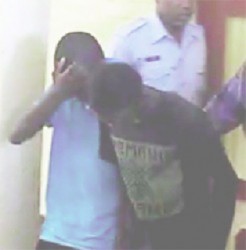 The charges against them stated that on January 22, at Aubrey Barker Road, South Ruimveldt, they had in their possession an M-16 rifle and 61 rounds of .233 M-16 ammunition without a licence.
They had denied the charges when they were read to them at their arraignment on January 24.
It was the police's case that the teenagers were in the vicinity of Penny Lane on Aubrey Barker Road, when at about 11:15am when they were spotted by ranks on patrol in the area.
According to Police Prosecutor Michael Grant, police ranks thought the two looked suspicious.
The ranks, Grant said, noticed George handing a haversack to Johnson, who immediately threw it back to him and George subsequently dropped the bag on the ground. Subsequently, the police ranks approached them and conducted a search.
The rifle, grenades and ammunition were discovered in the bag, Grant said, before adding that after the interception of the items, the teens were arrested and taken to the Brickdam Police Station and further investigations were carried out, leading to them being brought before the court.
Comments

Wijeyadasa Rajapakshe   COLOMBO, (Reuters) – Sri Lankan President Maithripala Sirisena today sacked the justice minister over his criticism of a $1.1 billion deal, signed last month, to lease a port to a Chinese company, the cabinet spokesman said.

NEW YORK,  (Reuters) – Two Harvard University researchers said in a study published today they had collected scientific data proving Exxon Mobil Corp made "explicit factual misrepresentations" in newspaper ads it purchased to convey its views on the oil industry and climate science.

In the wake of rising bad loans and a massive alleged fraud against it this year, the Guyana Bank for Trade and Industry (GBTI) has posted an unaudited net after tax profit of $603m for the first six months of this year compared to $961m in the same period for 2016.

Vamanadev Hiralall, of the privately-run Saraswati Vidya Niketan (SVN), is the country's top performer at this year's Caribbean Advanced Proficiency Examinations (CAPE) after achieving an accumulated 13 grade one and 3 grade two passes.

Twenty-six students in the top one percent of the 12,684 who sat this year's Caribbean Secondary Education Certification (CSEC) examinations earned 12 or more Grade I passes, with half of them, including the top performer, coming from Queen's College (QC).