Friends and family gathered yesterday at the Central Islamic Organisation of Guyana on Woolford Avenue for the last rites for renowned comedian Habeeb Khan. Khan lost the battle to asthmatic bronchitis, passing away in his sleep at his Friendship, East Bank Demerara home last week. He was 78. Khan became a household name after he appeared in the local film "If Wishes Were Horses" as well as scores of television commercials inclusive of the unforgettable pawn shop commercial in which he placed the role of a patient who had lost his memory. "I live a simple life; on stage I am a comedian but off stage I just want to be me, a Guyanese. I am the product of a slave and an immigrant and I am very proud of my heritage. As we say in Creolese, 'Me ain't kay who black, who white, who pink, a nothing, once yuh born in Guyana, you is Guyanese and dat is me" Khan stated in an interview with the Sunday Stabroek in 2004.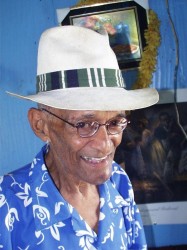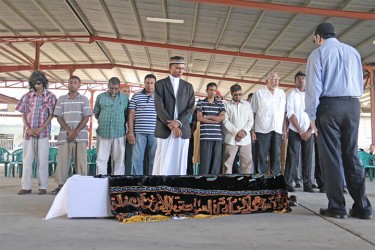 Comments

Eleven residents of the juvenile correctional centre at Onderneeming on the Essequibo Coast were apprehended between yesterday and this morning.

With growing pressure on the government over the overcrowding of jails, MP Michael Carrington is confident that the parliamentary bill in his name to ease penalties on marijuana use will gain the support of the governing APNU+AFC benches of which he is a member.
The National Toshaos Council (NTC) is to begin its conference today and high on the agenda will likely be ongoing concerns about the lands commission of inquiry (CoI) which the government has convened.
A Trinidad-based medical products company has secured four contracts worth $135.4m. According to the Ministry of the Presidency (MotP), Cabinet at its meeting on August 15,2017 noted the award of 16 multi-million-dollar contracts.

The police on Friday evening discovered an AK-47 assault rifle and a quantity of ammunition in a haversack at Kingston, Georgetown.