A handful of placard-bearing citizens turned out yesterday to call for an end to the weeks-long bombing of the Gaza Strip by Israel and to show their solidarity with thousands of Palestinians who now have no homes or access to food and water.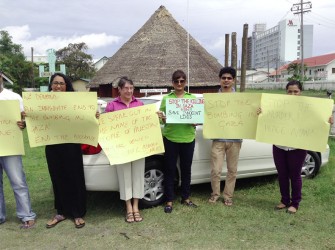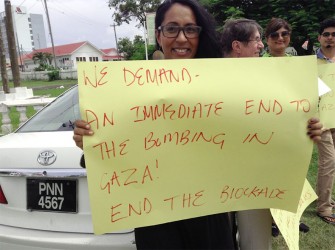 The two-hour protest action in front of the Umana Yana in Kingston was organized by a group of friends who, prompted by social media, felt more had to be done to shed light on the killings.
A planned three-day ceasefire yesterday between Israel and Gaza militants collapsed and was followed by more shelling and bombings. Reuters reported that renewed Israeli shelling killed more than 70 Palestinians and wounded some 220. Palestinian militants were also accused of attacks on Israel yesterday.
One of the protesters yesterday noted that persons had taken to social media to vehemently object to the present crisis. "We felt like we were just posting things without actually really doing anything," Krysta, said.
"What's going on there is absolutely shameful," she further said. She continued, "We need to recognize that lives have been meaninglessly lost, especially those innocent persons who never asked for this. This is just one way of us objecting to these actions."
She explained that they had chosen Emancipation Day to protest because the day was one of freedom. Persons suffering from the bombings, she said, also needed to be emancipated from their struggles.
Nadia Sagar, another one of the activists, noted that the Central Islamic Organisation of Guyana had held a protest of their own late last week. However, she said, it was important to show that the issue was not simply a religious one.
"We just want to do something," she said. "Us standing here is not tangibly helping people but it's making persons aware; there is something fundamentally wrong with this situation," Krysta added.
Sagar also noted that the recent bombings have not been raising as much public outcry as the Bring Back Our Girls campaign launched after the recent kidnapping of hundreds of Nigerian girls by Boko Haram. "People are circumspect in this case," she said.
On Monday, the government of Guyana condemned what it says are "war crimes" being committed in the Gaza Strip and is backing calls for an international probe of the situation there.
A statement said that the Government of Guyana supports the call of the United Nations Human Rights Council to launch an international inquiry into the situation in Gaza and that those accountable should be brought to justice.
The Government reiterated its call for a peaceful and lasting solution to the Israeli-Palestinian conflict.
Israel launched its offensive in Gaza on July 8 with air and naval bombardments in response to a rise of cross-border rocket attacks.
Tanks and infantry pushed into the territory of 1.8 million people on July 17.
Gaza officials say at least 1,555 Palestinians, mostly civilians, have been killed and 7,000 wounded. Sixty-three Israeli soldiers have been killed and more than 400 hurt. Three civilians have been killed by Palestinian rockets in Israel.
The Palestinian death toll is now higher than during the last major outbreak of hostilities in 2008-2009, when more than 1,400 died.
Comments

Vamanadev Hiralall, of the privately-run Saraswati Vidya Niketan (SVN), is the country's top performer at this year's Caribbean Advanced Proficiency Examinations (CAPE) after achieving an accumulated 13 grade one and 3 grade two passes.

Twenty-six students in the top one percent of the 12,684 who sat this year's Caribbean Secondary Education Certification (CSEC) examinations earned 12 or more Grade I passes, with half of them, including the top performer, coming from Queen's College (QC).

On the second day of the Commission of Inquiry (CoI) into African ancestral lands and other matters, four witnesses made cases for the return of lands they feel they are rightly entitled to, which were either taken by the state or occupied by private owners.

Shelton George, the man charged with both murdering a waitress at a Chinese restaurant and the attempted murder of a magistrate, was found dead in his cell at the Lusignan Prison yesterday morning.

The Chairman of the Triumph Neighbourhood Democratic Council (NDC) yesterday instructed workers employed on a private site, reportedly intended to build a first-floor pool, to cease operations, just two days after residents called on authorities to halt its construction.