The Federal Court of Canada yesterday stayed the deportation of a Guyanese father, allowing him to remain for the moment in Canada with his daughter, a Canadian aboriginal girl for whom he is the sole guardian.
According to a Toronto Star report, the court granted the stay at an emergency hearing into the plea by Curtis Lewis, effectively postponing his deportation to Guyana until a government tribunal decides whether to reopen his appeal to restore his permanent resident status.
Lewis, who migrated with his family to Canada in 1966 at the age of 7, has never returned to Guyana and has no family here, the report said.
"It's a huge load lifted off my shoulders," he was quoted as saying in the report, after he got the news of the stay late yesterday, just hours before he was supposed to leave his sister's Ajax home with his seven-year-old daughter for their flight to Guyana. "I didn't sleep. I was thinking we'd get to Guyana at 6am and I'd have to feed her and find a hotel. We have nobody in Guyana and we wouldn't know where to look," he noted.
The Star report said the Canada Border Services Agency (CBSA) had scheduled Lewis' deportation with his daughter,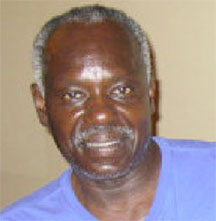 even though leaving Canada would have meant the girl, who has been dubbed "Alexandra" to protect her privacy, would lose her connection with her aboriginal community, culture and history for an uncertain life in Guyana.
"We are certainly relieved by the court's decision," Lewis' lawyer, Allison Rhoades, of Toronto's Refugee Law Office, was quoted as saying. "That said, it's still pretty shocking that the federal government came this close to effectively removing a First Nations child from her own country, without really giving a moment's thought to her unique rights and interests as a First Nations child," she added.
The report said Lewis' lawyers have asked to reopen his "abandoned" appeal for permanent residency and requested that Citizenship and Immigration Canada grant him immigrant status on humanitarian and compassionate grounds. Both decisions are pending.
After CBSA officials declined Lewis's request to defer his removal until a decision is made on his request to reopen his appeal, Lewis and his daughter had started to plan for their trip to Guyana.
"We packed what's important. All her pictures. Her school works from kindergarten," Lewis said. "We didn't even have time to get her the shots that she needed to travel to Guyana. We got some bottled water, because I don't know if she'd get sick with the water there," he added.
According to the Star report, Lewis' permanent residency was revoked in 2005, three years after the last of his four minor convictions for assaults, which dated back to 1979. His longest sentence had been 14 days in jail.
"A tribunal heard his case and gave him a chance to restore his status if he avoided any criminal offences for a year.
However, when he failed to check in with immigration officials at the end of the year, his attempt to reinstate his status was deemed to have been abandoned and a Canada-wide warrant was issued," it explained..
It added that his situation was further complicated by the substance abuse of Lewis' common-law wife, which led to the court awarding sole custody of Alexandra to him.
The report said Lewis lawyers argued that Canadian officials, in denying his request for a deferral, failed to assess the best interests of the girl, who, like her mother, is a full-status member of the Gwich'in First Nation.
It added that the CBSA had said, in rejecting Lewis's request for deferment, that it was not within its authority to assess Alexandra's "long-term best interests."
Comments

A jet plane flies by the total solar eclipse in Guernsey, Wyoming U.S.

Superstar opener Chris Gayle … returns to the West Indies side for the first time in over two years.

The Church Street hotel and casino Hotelier Clifton Bacchus today filed a $2 billion lawsuit against the state-owned Guyana Chronicle newspaper following its publication of two recent articles which he has described as "highly defamatory." Guyana National Newspapers Limited, which is the publisher of the Guyana Chronicle, and the editor of the Guyana Chronicle were listed as the defendants in the suit, which was filed by a team of lawyers headed by former Attorney-General Anil Nandlall.

LONDON, (Reuters) – The gradual decline of West Indian cricket is hardly a new phenomenon but the latest capitulation of a once-dominant test match power has brought genuine expressions of sadness throughout the sport.

Eleven residents of the juvenile correctional centre at Onderneeming on the Essequibo Coast were apprehended between yesterday and this morning.