A Guyanese woman, who was diagnosed with a brain tumor, received life-saving surgery in the USA last month after a US-based Guyanese doctor learnt of her condition while visiting and volunteering here.
Melissa Williams, according to a WCHS6's News Center, was diagnosed with a brain tumour, two years after suffering with chronic headaches. However, she was unable to have the surgery here since there were no neurosurgeons and doctors in Jamaica and Trinidad were too busy to take her case. "Looking at my daughter dying slowly, it's hard as a father…,'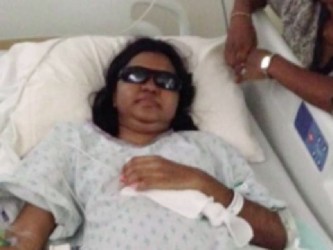 Williams' father told News Center.
All hope was lost until US-based Guyanese Dr. Nadia Ramdin, an Oncologist of Pen Bay Medical Center in Rockport, Maine was visiting Guyana and heard about Melissa's story.
She assisted in getting a visa for Williams and her family, and connected her with a neurosurgeon at the Maine Medical Center just in the nick of time.
Doctors said that Williams only had a week to live when she arrived in Maine. "This tumor was killing her" said Maine Medical Center's Head of Neurosurgery Jeffrey Florman. "This tumor had buildup of fluid in the head and was threatening her life. Had we not intervened, there's no question this would've killed her in relatively short order."
Doctor Florman was able to remove the tumor, which was benign. Williams is expected to make a full recovery. "The love they [Maine Medical team] show us and that support bring healing to us and to my daughter," added the grateful father.
Comments

The Chairman of the Triumph Neighbourhood Democratic Council (NDC) yesterday instructed workers employed on a private site, reportedly intended to build a first-floor pool, to cease operations, just two days after residents called on authorities to halt its construction.
A 55-year-old man was crushed to death yesterday afternoon by the bulldozer he was operating at Mahdia, Region 8.
Armed bandits yesterday robbed an employee of Buddy's of $2M, moments after he had returned from a city bank and the police later recovered the suspected getaway car in Middle Road, La Penitence.

An East Bank Demerara businessman was on Monday afternoon shot and robbed of an undisclosed amount of cash and valuables after he was attacked by two gunmen while at the traffic light on Irving Street, Georgetown.

Design contracts for sanitary landfills were yesterday signed by the Ministry of Communities for Bartica, Linden and Mahdia.