Two gun-toting bandits escaped with $10M in local and foreign currency after robbing a cambio dealer, Heeralall, 60, at his Cotton Tree, West Coast Berbice home around 1:30 pm on Saturday.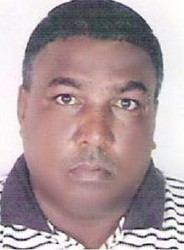 The bandits are still on the run but in a surprising twist, police yesterday detained Heeralall, also known as `Seed', and another dealer with whom he had been transacting business at the time.
Reports are that the men were sitting on a bench at the side of the yard when the two young bandits who came on a bicycle walked into the yard and asked Heeralall's wife if she had cigarettes to sell.
She responded that she did not and just then they whipped out their guns and told her not to say a word. They then turned their attention to the two men on the bench and while waving the guns at them and using expletives they grabbed the cash.
They hurried out of the yard and grabbed another bicycle belonging to Heeralall's grandson and made good the escape.
Reports are that Heeralall was checking off the money to give to the other dealer to deliver to his employer at Corriverton when the robbery occurred.
That was not the first time Heeralall suffered at the hands of bandits. In 2006, he was shot and robbed while plying his trade at Rosignol.
He was also shot in another robbery in 2005.
Comments

The Management of Cheddi Jagan International Airport Corporation (CJIAC) is currently undertaking a massive expansion project  and a Temporary Arrivals Terminal Building was recently constructed.

Tourism Minister Shamfa Cudjoe announced the decision to close the company. (Trinidad Express) The Tourism Development Company (TDC) has ceased operations.

Cevons clearing city garbage WPA STATEMENT ON THE UNRESOLVED ISSUE OF GARBAGE COLLECTION IN THE GEORGETOWN MUNICIPALITY The WPA is deeply concerned that the Georgetown City Council's inability to honour its financial obligations to Cevons Waste Management and Puran Brothers has the potential of endangering the health and lives of citizens.
British High Commissioner to Guyana Greg  Quinn  yesterday said that it was hoped that more would have been done to push the constitutional reform process forward.

A West Coast Berbice man died after he reportedly set his one-storey house ablaze sometime around 11.20 am yesterday.