Jermaine King, who is accused of disfiguring his former partner by dousing her with a corrosive substance, was yesterday committed to stand trial in the High Court after a city court found that a prima facie case was made out against him.
The charge against King states that on November 16, 2013 at D'Urban Street, Georgetown, he unlawfully and maliciously wounded Anchinalu Canning with intent to commit murder.
At the conclusion of the preliminary inquiry into the charge yesterday, Magistrate Judy Latchman, who presided over the matter, informed King that a prima facie case had been made out against him. She explained to him that he will be further remanded to prison until his trial commences at the next practical assizes sitting of the High Court.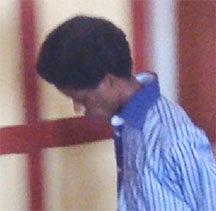 When asked if he had anything to say after the court's ruling, the 38-year-old father of three told the court that he was sorry for everything that had happened.
Five witnesses were called by the prosecution.
After evading police capture since last November, King was arraigned on May 14 before Chief Magistrate Priya Sewnarine-Beharry at the Georgetown Magistrates' Court One. A miner, of 35 East Ruimveldt, he was not required to enter a plea to the indictable charge of attempted murder and was remanded to prison.
The prosecution's case is that at about 9:45pm on the day in question, Canning was coming out of her house to attend a Bar-B-Q with friends at the corner of D'Urban Street and Cemetery Road when she was approached by King.
King requested to speak with her and she obliged and followed him to his car, where an argument ensued between them.
The court was told that the woman began to walk away and King called her back. According to Prosecutor Gordon Mansfield, as the woman turned back, instead of speaking, King removed a container and threw its liquid contents on her body before quickly fleeing the scene.
The court further heard that the woman immediately felt a burning sensation and was rushed to the Georgetown Public Hospital, where she was admitted a patient at the institution's Burn Care Unit.
Canning, who sustained first degree burns to her face, chest, right hand and entire right side, bore obvious signs of disfigurement.
King had managed to avoid apprehension until May 12.
Comments

Eighteen prisoners at the Lusignan penitentiary were being treated for injuries last night following a reported attempt to kill a fellow inmate during which warders fired shots.

A 12-year-old girl is now dead, while her brother narrowly escaped a similar fate yesterday after their aunt's La Bonne Intention (LBI), East Coast Demerara house, which they were under, collapsed on them.

Guyana has officially applied for membership in the European Union's Extractive Industries Transparency Initiative (EITI) which will help in tracking revenues from oil and other natural resources.

State Minister Joseph Harmon yesterday reiterated that President David Granger's directive to the Police Service Commission to halt its consideration of promotions was intended to prevent damage to the image of the Guyana Police Force but he could not say under what authority the head of state acted.

While saying that a strong security presence along the country's borders is the first line of defence against transnational criminal syndicates, President David Granger yesterday called for cooperation by all actors to see the security of Region Nine as a priority.