Working People's Alliance (WPA) member Tacuma Ogunseye yesterday maintained that late President Forbes Burnham was prepared to do whatever was necessary to hold on to power, including using personal violence.
"If it means hurting him, he was prepared to do it if he feels that there is no other way around it," Ogunseye said, when he resumed his testimony at the Supreme Court Law Library before the Commission of Inquiry (CoI) set up to probe the death of historian and WPA founder Dr Walter Rodney.
He had been asked for an opinion on whether Burnham was prepared to use his powers to inflict violence on persons who were his political opponents. Before attorney Christopher Ram, who is representing the interests of the WPA at the CoI, could complete the question, attorney Basil Williams objected, saying that Ogunseye was being asked to go into "a greater mind than his."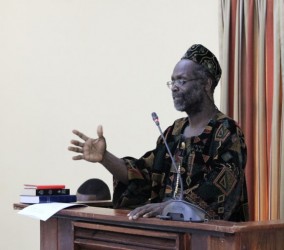 Williams, who is appearing to look after the interests of the PNCR, which has been long accused of orchestrating Rodney's death while it was in government, said that what is being asked of the witness was libellous. He also pointed out that it was not the first time the issue has come up. He pointed out that there must be some fact to back up the opinion.
After some back and forth between Williams and the commissioners, Chairman Sir Richard Cheltenham subsequently said that the witness was entitled to make his judgment and if required it could be challenged.
Ogunseye subsequently agreed with the assertion that Burnham was prepared to do whatever was necessary to maintain power and he added that he believed that Dr. Rodney's death was as a result of this determination. Again Williams objected, questioning why such opinions were being accepted.
"What is the basis that Tacuma could come and say that? I will explore Walter Rodney's mind and I trust that we don't have any objections…," Williams said before adding that the witness needs to come with hard facts.
During the cross-examination, Ogunseye also dismissed a suggestion by Williams that he made erroneous comments about Burnham being vindictive. Ogunseye, who recalled saying previously that Burnham and Janet Jagan are two persons whose politics were very personal and very vindictive, said that he saw his conclusions as "accurate and fair."
Asked by Williams if Burnham's policy of giving free education from the nursery to tertiary levels was vindictive, the witness, in response, said that he did not understand the relevance of the question and could not answer.
After being asked the question a second time, he said, "A vindictive person could also kill… could do anything… good things or bad things. They could do anything."
He was then asked a series of questions, including whether Burnham was vindictive when he built the university campus, the bridge across the Demerara River and all the bridges and highways which exist up to today. "I do not know," Ogunseye responded.
Video:
Asked if he interacted with Burnham on a regular basis to make some of the statements he was making, the WPA member told the commission that he engaged him politically and he did personal and political things to him. "I am telling you the truth. The truth," he stressed.
He added that based on his interaction with Jagan, he considered himself qualified to make a judgment on her treatment of him.
Under cross-examination by Ram, Ogunseye said he first heard the name of the suspect Gregory Smith on June 14, 1980, the day after Rodney was killed in a bomb blast, when he joined the WPA's leadership. He said the entire WPA leadership met.
Ogunseye also said none of the WPA meetings ever spoke to the party engaging in armed uprising. He said that as far as he recalled, Rodney never made a request for any armed uprising. He made it clear that the party was committed to a people's uprising.
He said that if it was being suggested that the WPA would attack the state militarily, his answer would be no. He said that he would more agree with a suggestion that the WPA was committed to bringing the people in the streets to have an uprising.
He also said that based on what he knew, Rodney never ordered any attacks on any police station where WPA members were detained, on any policeman or presidential guard.
At the end of the cross-examination, Ogunseye indicated that he wanted to make a statement. However, shortly after he began, the Chairman interrupted him, saying that his purpose at the commission was not to make a political speech.
Comments

Wijeyadasa Rajapakshe   COLOMBO, (Reuters) – Sri Lankan President Maithripala Sirisena today sacked the justice minister over his criticism of a $1.1 billion deal, signed last month, to lease a port to a Chinese company, the cabinet spokesman said.

NEW YORK,  (Reuters) – Two Harvard University researchers said in a study published today they had collected scientific data proving Exxon Mobil Corp made "explicit factual misrepresentations" in newspaper ads it purchased to convey its views on the oil industry and climate science.

In the wake of rising bad loans and a massive alleged fraud against it this year, the Guyana Bank for Trade and Industry (GBTI) has posted an unaudited net after tax profit of $603m for the first six months of this year compared to $961m in the same period for 2016.

Vamanadev Hiralall, of the privately-run Saraswati Vidya Niketan (SVN), is the country's top performer at this year's Caribbean Advanced Proficiency Examinations (CAPE) after achieving an accumulated 13 grade one and 3 grade two passes.

Twenty-six students in the top one percent of the 12,684 who sat this year's Caribbean Secondary Education Certification (CSEC) examinations earned 12 or more Grade I passes, with half of them, including the top performer, coming from Queen's College (QC).