Guyanese singer Lisa Punch was eliminated from ABC's Rising Star on Sunday night during Week 7 of the series after her rendition of Alicia Keyes' "This Girl is on Fire" failed to attract more than 59% of votes on the East Coast.
Many Guyanese went to bed on Sunday night hoping that the West Coast votes would push her over the top as it had before, but this was not the case. She was only able to amass 63% of the votes after West Coast voting closed and this was not enough to keep her in the competition.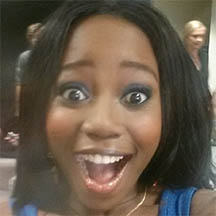 During the Week 4 performance Punch remained in the game after amassing 66% of the East Coast votes and 67% of the votes on the West Coast. During her first performance she racked up 80% of the East Coast votes, and 78% of the votes on the West Coast.
Comments

Grace Mugabe   HARARE,  (Reuters) – Zimbabwe's first lady Grace Mugabe returned from South Africa early today, state media reported, after a 20-year-old model accused her of assault in an upmarket Johannesburg hotel room.

Michael Bhopaul, 16, doesn't know if he is this year's best performer at    the Caribbean Secondary Examination Certificate (CSEC) Examinations, but with preliminary results showing that he has obtained passes in 25 subjects, he will be hard to top.

Inmates at the Lusignan Prison turned over 33 improvised weapons yesterday morning to prison authorities, who say that they also apologised to the prison staff for the unrest at the facility on Friday night.

Well known Berbice attorney Chandra Sohan was arrested on Friday after he allegedly struck a pedestrian in a hit and run accident along the Williamsburg Public Road.

For a little more than an hour yesterday, the streets outside the Mackenzie Market rang with the voices of dozens of Linden residents who turned out to support a march against homosexuality.