Chandanie Dass yesterday succumbed to injuries she suffered after her car collided with another at Annandale Public Road, Essequibo Coast on Saturday evening.
Others injured in the accident remain hospitalized.
Dass, 30, of Taymouth Manor had several fractured bones and was also being treated for respiratory distress caused by a collapsed lung suffered as a result of the accident. She died yesterday morning at the Georgetown Public Hospital's Intensive Care Unit. She was the driver of motor car PRR 9027 which collided with a car – PSS 3067 – driven by Nicholas Singh, 19, of Abrams Zuil, Essequibo Coast.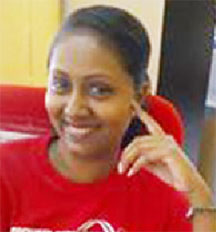 Still hospitalized at the city hospital are Pooranadai Dass, 24, who was an occupant of Chandanie's car. Krishna Ramsamuj, 18, Teron Kumar, 22 and Shane Kumar, 24, all of Annandale and occupants of Singh's car also remain hospitalized at the Suddie Hospital.
Stabroek News learnt that Chandanie, who is the manager of the Courts Essequibo branch was proceeding north on the western side of the road when she was reportedly blinded by the bright lights of the other vehicle. The two cars collided in the centre of the road.
Comments

The body of 13-year-old Leonard Archibald, who was raped and then dumped in the Berbice River, was recovered this afternoon.

Lawrence Duprey (Trinidad Express) Former executive chairman of CL Financial Lawrence Duprey was ordered by a Florida judge in July to pay more than US$60 million to British American Insurance Company (BAICO) in damages in relation to the TT$1.9 billion Green Island project in Osceola County, Florida.

Bharrat Jagdeo The PPP/C is committed to constitutional reform, says Opposition Leader Bharrat Jagdeo.

Ray Lengend Ray Lengend who went on a fire-bombing spree of mosques throughout southeast Queens, this week pleaded guilty to the crimes against Muslims who the 45-year-old Guyanese man claimed in 2012 had been "trying to take over his life", according to the Times Ledger in Queens, New York.

BEIJING/SEOUL, (Reuters) – A small earthquake near North Korea's nuclear test site on Saturday was probably not manmade, the nuclear proliferation watchdog and a South Korean official said, easing fears Pyongyang had exploded another nuclear bomb just weeks after its last one.