Stabbed Columbia teen might have lived if rushed to hospital -mother
Brenda Narine, the mother of the teen who was fatally stabbed at Drying Floor Ground, Anna Regina, on Monday, has said that her son might still be alive if he was immediately rushed to the hospital.
Alex Narine, 17, of Columbia, Essequibo Coast, was stabbed to his back after an argument with a man at Drying Floor Ground, Anna Regina.
The teen was later pronounced dead on arrival at the Suddie Public Hospital. Although it was earlier reported that he was taken to the hospital immediately after the attack, his mother had a different account and she is suggesting that the police might not have been aware that the boy was still alive while he lay at the scene of the crime.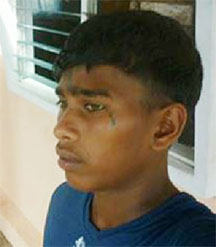 When contacted by Stabroek News, a distraught Brenda Narine said that around 4pm on Monday she received the news that her son had been stabbed.
"When I hear, I left home right away and went to the ground. When meh see meh son he went lying on the ground in the hot sun on the road. That is when I start crying and I tell the police that he didn't dead but they tell me that I must not touch he. I know that he didn't dead as yet. He was still warm and soft," the woman cried.
Narine added that she begged the officers to take her son to the hospital but she was told that her son was dead and they would have to wait until the Criminal Investigation Department (CID) officer arrived at the scene. "Not long after, the CID come and they put him in the vehicle and me and my daughter went with them to Suddie. When we reach the doctor say that he dead but if we went earlier he would have survive," the woman related.
This newspaper was told that the man suspected of stabbing Narine had his computer at the time and Narine, who had been consuming alcohol with his friends at the time, interfered with it.
The suspect reportedly told him to stop and an argument ensued between the two.
The man had in his possession a knife and Stabroek News was told that there was a scuffle between them. Shortly after, Narine rolled off the pavilion they were on, got up and ran to the road where he fell.
Witnesses observed a stab wound to the teen's back.
The suspect fled the scene but was later arrested.
A post-mortem examination is expected to be conducted on the teen's body on Thursday.
Most Read This Week