The family of Kester Anderson, the miner who died after he was doused with gasoline and set afire by a co-worker, is calling for justice as the suspect remains on the run.
According to relatives of Anderson, 23, details of the incident are still sketchy. "All I really heard was that a co-worker bun he up and that he was in the Bartica Hospital," Anderson's grandmother said.
According to reports, she added, she had learnt that he had been in a hammock when he was drenched in the flammable liquid and she believes that he must have been tied down due to the extent of his injuries.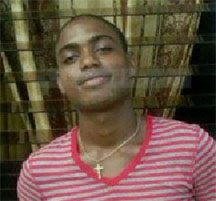 "His face was cooked," she said. "His hands, his face, everything was swollen and his face was black. Since I heard that, I know that he would've died," she continued.
Quenella Anderson, the dead man's mother, said that so far the family is yet to be updated by the police. "All we know is that they call we to come up to Bartica for him. Bartica Hospital didn't have the facilities to look after him. When we reached GPH [Georgetown Public Hospital] he was in a state, like he couldn't make it," she said.
The family, she said, remains in the dark. "More investigation has to come down from Bartica; no information has come down to town yet. All they said is this guy fled; we didn't get no information on his name or anything," she lamented.
"I don't know what the police are gonna do about it," the youngster's grandmother said. "We wouldn't know who this man is that throw the gasoline unless the police investigate."
She added "Even if he and somebody had some argument, nobody ain't supposed to bun he up," she said. She went on, "I expected nothing like this; he was just trying to make a living. He said he wanted to do his house and get some furniture together."
Anderson of Samaroo Dam, Pouderoyen, was admitted to the GPH's burn care unit on Monday following the altercation at Barakat Backdam, Mazaruni. He succumbed to his injuries at the GPH on Tuesday afternoon.
Comments

LONDON, (Reuters) – The gradual decline of West Indian cricket is hardly a new phenomenon but the latest capitulation of a once-dominant test match power has brought genuine expressions of sadness throughout the sport.

Eleven residents of the juvenile correctional centre at Onderneeming on the Essequibo Coast were apprehended between yesterday and this morning.

With growing pressure on the government over the overcrowding of jails, MP Michael Carrington is confident that the parliamentary bill in his name to ease penalties on marijuana use will gain the support of the governing APNU+AFC benches of which he is a member.
The National Toshaos Council (NTC) is to begin its conference today and high on the agenda will likely be ongoing concerns about the lands commission of inquiry (CoI) which the government has convened.
A Trinidad-based medical products company has secured four contracts worth $135.4m. According to the Ministry of the Presidency (MotP), Cabinet at its meeting on August 15,2017 noted the award of 16 multi-million-dollar contracts.