A family of seven of Bush Lot Farm, Corentyne is now homeless after fire destroyed their four-bedroom house around 9:40 pm on Tuesday and a neighbour who felt he was responsible committed suicide.
Those homeless are: Lalchan Permauloo, 44, his wife, Amoi, 36, his children; Kamadevin,19, Nandanie, 18, Kavita, 15, foster daughter, Ashley Divya Rambarose, 15 and his mother, Kastury Samnadam, 78.
Permauloo estimated his loss to be in excess of $10 M. He told Stabroek News that he and his family had gone to Alness to attend a wake for his sister when he got the news that his two-flat wooden and concrete house was on fire.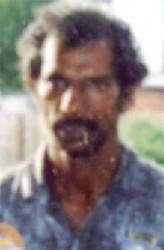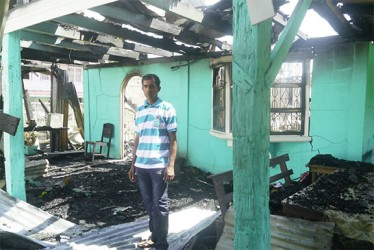 When they arrived at the scene within 10 minutes the entire house was already engulfed. They stood helplessly as they watched their house burn.
Neighbours had also been trying in vain to douse the building with buckets of water. The fire tender arrived after and put out the blaze completely.
Permauloo who rears sheep for a living, also operated a small shop that was detached from the house. Thankfully, the shop was saved.
Meanwhile, the neighbour, Indar 'Suresh' Prashad, 55, who had lit a fire at the back of his yard earlier, blamed himself for causing the fire and could not deal with the trauma.
The man was burning some dried tomato plants and it is believed that heavy winds cause the flames to blow over to the Permauloos house, resulting in the fire.
Reports are that he went over to the scene yesterday morning and after witnessing the destruction decided to end his life.
His wife told this newspaper that he went to the upper flat and after a while she decided to check on him but the door was closed.
Suspecting that something was amiss, she raised an alarm and some boys in the village ran over and broke the door. They then saw him hanging behind the bedroom door.
Permauloo was saddened that Prashad ended his life after taking the blame and said he should not have done that over "material things" which can be replaced.

Comments

Several candidates recorded outstanding performances at this year's Caribbean Advanced Proficiency Examination (CAPE).

 Geometric improvements will be carried out on the East Coast Railway Embankment Road come September for smoother traffic flow.
Swift action by the Law Enforcement and Investigation Division (LEID) of the Guyana Revenue Authority (GRA) aided in the removal of a large quantity of seized foreign chicken from two separate cold storage facilities in the Berbice area after it was discovered that the commodities were unlawfully being disposed of, the GRA said today.

Farha Faiz, a lawyer, speaks with the media after a verdict for the controversial Muslim quick divorce law outside the Supreme Court in New Delhi, India August 22, 2017.  

Defeat Tallawahs by 37 runs Chris Gayle, playing in his 50th CPL match, produced his 63rd T20 fifty as St Kitts & Nevis Patriots cruised past Jamaica Tallawahs by 37 runs to guarantee a place in the playoffs for the first time in their three-year history.