Albouystown businessman Joel Sullivan, who was shot in the chest during an attack last Friday, said his alertness and a quick responding neighbour saved his life.
Sullivan, 37, of James Street, Albouystown told Stabroek News from his hospital bed that he was locking up his business place on Emancipation Day when he saw a man running towards him from a corner away. "I thought he was running from the police," Sullivan explained. However, he then noticed a gun in the man's hand and decided to run into his yard and lock the gate.
"I said this look like me," he explained, adding that the gunman then fired two shots at him. Only one bullet hit Sullivan, who shouted for help while securing the gate to deny access to the gunman.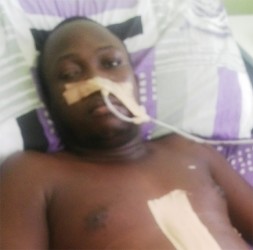 He said that the gunman then ran away after he realised that the gate was locked and neighbours were alerted. He said he dragged himself into the house after being shot, collected money and his house keys before he was taken to the hospital by his neighbour Linden Chase.
Sullivan underwent surgery at the Georgetown Public Hospital to remove a bullet that was lodged in his chest. Sullivan said that he was surprised that he would be targeted by bandits, since he runs a small business and does not have a lot of money. A statement is yet to be taken from him as he was unable to give one. He said he is expecting the police to visit him and take one, since he is not yet cleared to be released from the hospital.
Comments
British High Commissioner to Guyana Greg  Quinn  yesterday said that it was hoped that more would have been done to push the constitutional reform process forward.

A West Coast Berbice man died after he reportedly set his one-storey house ablaze sometime around 11.20 am yesterday.

A Yarrowkabra miner was yesterday charged with the murder of a co-worker, whom he allegedly beat to death during an alcohol-fuelled clash last Saturday at a dredge site in the Potaro Backdam.
A court action was yesterday filed challenging a directive issued in the name of President David Granger to the Police Service Commission (PSC) for a hold to be placed on planned promotions this year.
UK security expert Lt Col (rtd) Russell Combe, who is working closely with the Guyana government to resuscitate the Security Sector Reform Action Plan (SSRAP), will be broadening his mandate to assess the country's prison situation.