Attorney Basil Williams yesterday suggested that the People's Progressive Party (PPP) had motive to kill Dr. Walter Rodney and pin the blame on late former president Forbes Burnham.
Williams, who is representing the interest of the PNCR before the Commission of Inquiry (CoI) into the 1980 death of Rodney, was at the time cross-examining Crime Chief Leslie James.
Williams questioned James about an entry in the Police Special Branch files, which stated that Dr. Cheddi Jagan wanted to "isolate Burnham" and overthrow the government.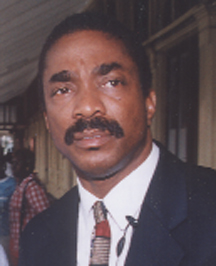 He also questioned James about whether the PPP may have become upset after hearing that the Working People's Alliance (WPA), a party which was led by Rodney, was encroaching on its strongholds. He further asked whether missing police files could have been removed after the 1992 general elections, when the PPP/C won the government.
Commissioner Seenath Jairam expressed alarm when these questions were posed to James. "Why would this government want to remove the files?" he asked, his face puzzled.
Williams stated that the WPA was encroaching on PPP territory and was trying to recruit its supporters, which may have brought some sort of alarm for the PPP. He then asked James if he thought that the PPP would have been upset since the very party it was forming an allegiance with to oust the then PNC-led government was undermining it.
"It could have caused some concern," James replied.
"Are you trying to produce evidence that the PPP was responsible for Rodney's death?" interrupted the Chairman of the Commission Sir Richard Cheltenham.
"That's the fourth theory," Williams replied, adding "I'm headed to the fourth theory."
Previously, Sir Richard had proposed three theories which may have led to Rodney's killing. He had suggested to James that a full inquiry into the killing should explore the possibilities that Rodney may have been the victim of a planned assassination by his party—the Working People's Alliance— or a victim of his own negligence or he was target of a state killing.
However, Sir Richard yesterday told Williams that if he was formulating a theory then he needed to have evidence to make it plausible. He said to assume that the PPP was involved in the killing would be taking another step that required probability rather than possibility.
"But we don't know if the state (PNC) took the next step into Rodney's death," Williams responded, questioning James on whether the PPP could have been a real party of interest. James answered that the investigation should not be limited.
Yet again, Sir Richard stated that because of the standard of the commission, it was compelled to focus on "what is probable not what is possible."
Williams then interjected, stating, "From the very first day, I said you suspended our laws. I'm aware of the standard you have but I'm saying to you that we have enough evidence with actual testimony of witnesses here that establishes that the PPP felt threatened by the WPA and Rodney's activities.
"Watch your language as a lawyer! You are talking about what is possible," Sir Richard cautioned.
"I am not, Mr. Chairman! I'm not speaking about possibilities! Why can't we cross- examine when it comes to PPP and Dr. Walter Rodney?" he shouted back.
Commissioner Jacqueline Samuels-Brown, however, intervened and stated that Williams had no need to get offensive. She added that even though he showed that the PPP may have felt threatened, no evidence was brought to the commission to show that they were responsible for Rodney's death.
"As far as I'm concerned, this is in the realm…," Williams stated, before asking James to read another file which revealed that Jagan wanted to remove leaders like Rodney. The files started off by stating that Jagan said the PPP and the WPA were experiencing minor differences but they had vowed to iron out those disagreements and form a united front to overthrow the PNC government. He added that they needed to remove all young progressive leaders like Rodney and Maurice Bishop (the assassinated former Grenadian Prime Minister).
"Isn't that another element as a Crime Chief you would pursue?" Williams questioned, adding that the police file stated that Jagan wanted to isolate Burnham. "In other words he want to blame Burnham for the death!" Williams declared. "There was a conscious decision to fix Burnham with the blame."
"I don't agree with you… those words are not written here," James replied quickly.
"That's not what it is saying," Samuels-Brown also said, adding that Williams was not allowing the witness to read the document in its entirety.
But Williams said that the commissioners should allow him to ask his question and when it was their turn they could further cross-examine. He continued to press James for an answer but James said he would "restrict" himself from answering it.
James' testimony yesterday ended the fourth session of the CoI, which will resume on August 25.
Williams questioned why the commission was not bringing back Norman McLean or calling Cecil 'Skip' Roberts to testify. Sir Richard stated that the witnesses were returning and they would be informed of the date they will be testifying.
But Williams continued to argue that the government was spending hundreds of millions on the inquiry and witnesses were not returning to the stand. "This commission is not going to be here forever!" he charged.
"When we are ready we will advertise to you and the world when we will bring them back," Sir Richard said angrily.
Nevertheless, Williams continued to bicker about the money, stating that it could have been spent on developing communities and building roads.
"That's a propaganda point!" Sir Richard burst out. "We are not here to facilitate propaganda!"
Comments

Several candidates recorded outstanding performances at this year's Caribbean Advanced Proficiency Examination (CAPE).

 Geometric improvements will be carried out on the East Coast Railway Embankment Road come September for smoother traffic flow.
Swift action by the Law Enforcement and Investigation Division (LEID) of the Guyana Revenue Authority (GRA) aided in the removal of a large quantity of seized foreign chicken from two separate cold storage facilities in the Berbice area after it was discovered that the commodities were unlawfully being disposed of, the GRA said today.

Farha Faiz, a lawyer, speaks with the media after a verdict for the controversial Muslim quick divorce law outside the Supreme Court in New Delhi, India August 22, 2017.  

Defeat Tallawahs by 37 runs Chris Gayle, playing in his 50th CPL match, produced his 63rd T20 fifty as St Kitts & Nevis Patriots cruised past Jamaica Tallawahs by 37 runs to guarantee a place in the playoffs for the first time in their three-year history.