Accused of killing elderly re-migrant Joyce Lewis in her home, Junior Williams was yesterday arraigned on a murder charge but denied knowing anything about the crime.
"They charge me for something me ain't know nothing 'bout," Williams, 23, of Second Street, Crane Housing Scheme, said after the charge was read against him at the Georgetown Magistrates' Courts.
He had already been remanded to prison on Monday after being charged with possession of an unlicensed gun. He was not required to enter a plea to the charge yesterday and was again remanded to prison.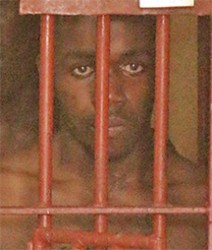 It was alleged that Williams, who is also known as Kevin Alfred, murdered Lewis, 75, on March 26 at Georgetown.
The court asked whether the facts were as stated in the charge. The prosecution responded in the affirmative, after which no further facts of what transpired on the day in question were presented to the court. Williams, who was unrepresented by an attorney, enquired whether he could speak and was given the opportunity by Chief Magistrate Priya Sewnarine-Beharry, who cautioned him that whatever he said may be used against him.
Williams said that since he was held by the police he had given "no statement or nothing."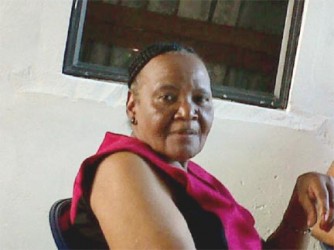 "They ain't take nothing, nothing from me," he said. He explained that it was only after being taken to court yesterday and while seated in the prisoners' holding facility at court, moments before making his appearance before the magistrate, that he was informed by police that he was being charged with murder.
Magistrate Sewnarine-Beharry however informed the accused that he cannot be granted bail for the offence with which he has been charged and would as a result be remanded to prison.
Prosecutor Grant informed the court that the prosecution intends to call 17 witnesses.
The matter will be called again on September 23, for commencement of the preliminary inquiry into the charge.
Lewis, who lived alone, was found dead in her Lot 3630 Christiani Street, North Ruimveldt home and was believed to have been strangled during an early morning robbery.
Her body was discovered at her home by the police and her sister, Veronica Deen.
Sources close to the investigation said that Lewis was found sprawled on a bed with her underwear pulled to her ankles. There were also dark marks around her neck.
The elderly woman had moved back to Guyana from New York in December last year. The intruder is believed to have gained entrance through a window at the back of the two-storey house. The window was broken and the grill barring entry into the house was clipped.
Comments
The National Agricultural Research and Extension Institute (NAREI) has utilised a number of new banana lines which are most likely resistant to the Black Sigatoka Disease.
Secretary-General of the Caribbean Community (CARICOM) Ambassador Irwin LaRocque has urged Sweden to use its position in two major international organisations to highlight the "unfair labelling" of some of the Community's Member States as "non-cooperative tax jurisdictions".

First Lady, Sandra Granger, yesterday, met with members of the Covenant Home for Children, a United States-based charity, which is registered in California and focuses on the homeless, runaway, abandoned, abused, trafficked, or exploited youth of Guyana.

Allen Chastanet   CASTRIES, St. Lucia, (Reuters) – The prime minister of the small Caribbean country of St.
Dear Editor, Kindly publish my response, as follows, with regard to an anonymous letter published by the Guyana Chronicle on Wednesday, August 16, 2017, under the caption 'Will the Auditor General investigate the deputy chief elections officer?' Editor, this letter is the second deliberate attempt aimed at besmirching my integrity, obviously with clandestine objectives.