Woman killed by speeding taxi
Christine Ishram was struck down and killed by a speeding taxi on the Non Pareil, East Coast Demerara road yesterday while waiting on a bus to buy a rakhi gift for her brother.
The 25-year-old mother of one, of lot 241 Section D Non Pareil, ECD, was pulled out of a nearby trench alongside the public road, barely breathing. She was rushed to the Georgetown Public Hospital where she was pronounced dead on arrival. The accident occurred at 11am while she was waiting for a bus to go to the market in a nearby village.
One eyewitness said she was standing at the corner of a street when she saw the woman cross the road and stand at the side.
She said the taxi "fly pass" Ishram hitting her and catapulting her into a fence. After this she fell into the trench.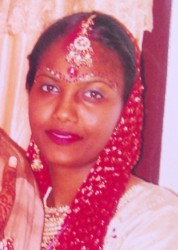 "When they pulled her out, her head was bust up and her foot was broken. Everyone thought she was dead but when I checked her I saw that she was breathing and I yelled at people to flag a car to carry her to the hospital," the woman related with tears in her eyes.
She said that the driver of the car emerged unscathed and started to blame Ishram for crossing the road recklessly. "His story changing. He came out and said the girl wasn't watching when she was crossing the road, so he just knock her but then he changed his mouth and said another woman was crossing the road and he swerved not to hit her and then collided with Christine," she said. "He rowing, talking that he saved a life but he took that girl life."
Ishram's mother, Pauline Ishram, said her daughter left home to buy a gift for her brother to celebrate the rakhi festival.
Traditionally, in Hindu cultural sisters would tie a rakhi—a bracelet made of thread—around their brother's wrist to celebrate their relationship. Pauline said Ishram left her 2-year-old son at home with her.
"Christine gone and left me alone. My company gone and left me. My daughter gone and left me, what me gon do without her," Christine's mother cried, rocking her grandson back and forth in her arms.
"Grandma don't cry," the child said.
Pauline said a neighbour brought her daughter's umbrella back to the house and broke the news. "Oh Marcus your mommy gone and leave you," she told the little boy.
The driver of the car was taken into police custody.