Months after Minister of Natural Resources Robert Persaud had said that Vaitarna Holdings Private Inc (VHPI) is in an "advanced" stage of setting up its promised wood processing facility at Wineperu, the company is still to do so and continues to export large quantities of logs.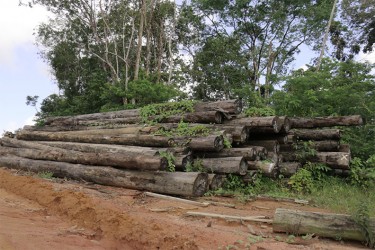 In January this year, Persaud told Stabroek News that construction of the facility was expected to commence in the first quarter of 2014 and start-up of processing was scheduled to commence within six to eight months. Since 2010, the Indian logging company has controversially controlled 737,814 hectares of forest – around 1.822 million acres – in Guyana and has been exporting logs to Asia.
Exports of logs rather than processing the timber locally has long been a concern since numerous promises have been made by the government and foreign investors about value-added operations. The promise of value added has been seen as sugar coating to enable the export of large quantities of logs, particularly to China and India, even though there is little job creation here or value enhancement. Foreign companies including Vaitarna and China's Bai Shan Lin have been exporting logs on a large scale even though Persaud and other officials have said that logging companies are encouraged to process wood here.
Stabroek News visited Vaitarna's Wineperu concession on the Essequibo River, seventeen miles above Bartica, on Tuesday and while Persaud had said that the company was in an "advanced" stage of setting up a wood processing facility, this is not the case. The company has cleared land to set up the facility but no construction has begun. It was observed that grading and filling was also done but was incomplete. No work was being done and there was no machinery at the site. An official there said that rain had "hampered" the work.
Vaitarna recently advertised in the media for log truck drivers, a likely sign of further expansion of its present work.
Persaud had said that start-up of processing was scheduled to commence within six to eight months but that timeline has not been met and according to a company official, they don't expect that the sawmill will begin operating until next year.
The company continues, however, to export logs and huge piles filled the log yard even as a barge headed up the Essequibo River on Tuesday for loading after ferrying another shipment earlier. Persons from the area said that the log yard often has many more logs than were seen on Tuesday. The official said that the company mostly exports the logs with a few sales locally. Stabroek News was told that last year, around 31, 000 cubic metres of wood was exported by the company and they expect to export a similar figure this year.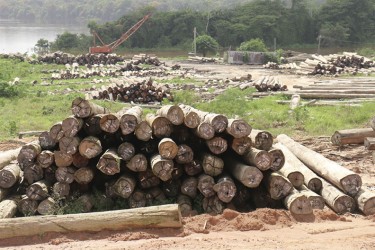 But, in addition to exports, logs are also left to decay. Stabroek News observed several piles of logs that were apparently there for a long time and an official said that mostly Wallaba logs were in that state and were there since last year as there was no market for the wood. There were several other piles of wood that were apparently there for a while as Guyana Forestry Commission (GFC) tags were faded and the markings are no longer legible.
The Vaitarna deal had not been known locally until an article surfaced in the Times of India in 2011 linking it to former President Bharrat Jagdeo. Subsequently, at a press conference in April 2011, Persaud said that there would be no large scale exportation of logs since Vaitarna has committed to getting involved in downstream activities. VHPI is not here as a logging company but will be involved in value-added, the minister had emphasized.
In 2012, V G Siddhartha, owner of the Coffee Day group which owns VHPI said that a processing centre for logs would be set up here but the main facility would be in India.
Indian newspaper, the Business Standard had reported that nearly two years after the ambitious foray by Siddhartha to build a global-scale furniture business, there was growing rumbling over the way he has been handling the logging in the pristine rainforest in Guyana. The intention was to take timber and ship it all the way to the small coffee-growing town of Chikmagalur in Karnataka's Western Ghats, the place where Siddhartha grew up and has close to 11,000 acres of coffee estates. The plan was to process this timber into ready-to-fix furniture, the newspaper had reported.
In January this year, Persaud said that VHPI had invested US$14 million up to that point since commencing operations here. In response to questions from Stabroek News, Persaud said he was advised by the GFC that the wood processing facility is located at the company's log yard at Wineperu. "The facility is being constructed on an area of approximately 30,000 square feet. The land has been cleared; the surveying and design of the structure is in progress; and construction is expected to commence in the first quarter of 2014," he had said. This has not happened.
The minister had told Stabroek News that he was advised by the GFC that the company was in preparation for swift commencement of processing as soon as construction is completed. Two Wood Mizer WM 4000 have been ordered, complete with additional value-added equipment such as equipment for material handling, resawing and edging, he had said. The equipment was expected to arrive in Guyana within three months and start-up of processing was scheduled to commence within six to eight months, he had said. There was no sign of any such equipment on Tuesday.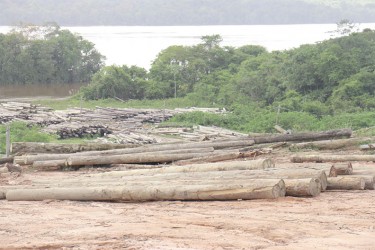 VHPI is a subsidiary of the India-based Coffee Day Group. Coffee Day, through its Dark Forest subsidiary, in 2010 acquired the State Forest Exploratory Permit for 391,853 hectares of forest originally awarded in 2007 to US-based Simon and Shock International Logging Inc (SSILI), after buying out SSILI. The company has since been granted a Timber Sales Agreement for this concession and can now harvest logs.
After the acquisition, the company registered in Guyana as SSILI. Subsequently, Dark Forest acquired the 345,961 hectares concession which was originally assigned to Caribbean Resources Limited (CRL). The government accepted an offer of $600 million for the TSA. The company was registered as VHPI and has been harvesting and exporting logs from this concession.
The total area held by Coffee Day is 737,814 hectares of forest, making it the second largest forestry concession holder in Guyana.
Comments

SYDNEY,  (Reuters) – England's Jos Buttler struck a belligerent unbeaten 100 to set up a 16-run win over Australia in the third one-day international on Sunday, as the touring side took an unassailable 3-0 lead in the five-match series.

The Public Procurement Commission (PPC) hopes that by the end of this year debarment legislation would be in place as it will soon begin meeting with stakeholders on a draft.

A bill to provide a legal framework for the protection of witnesses was passed without amendment by the National Assembly on Friday evening despite arguments by the parliamentary opposition that it failed to take into account modern challenges.

The ownership of over $7 million in local and foreign currencies and several vehicles that were all seized during a raid by the Customs Anti-Narcotics Unit (CANU) at Soesdyke, East Bank Demerara on Friday has raised questions and a separate probe is expected to be launched.

Weeks after its major oil find at the offshore Ranger-1 well in the Stabroek Block, ExxonMobil's local subsidiary is preparing to begin drilling at the Pacora-1 well site in the same area.