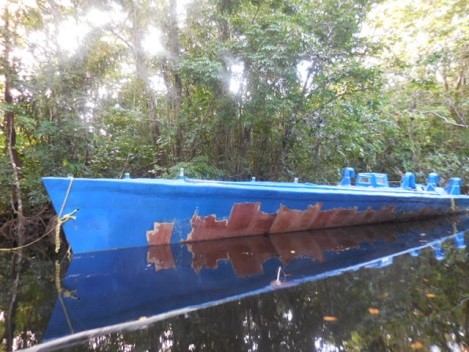 The Customs Anti-Narcotic Unit (CANU) today said that based on intelligence from an ongoing probe, its officials and personnel from other law enforcement agencies yesterday found a semi-submersible craft in a creek off the Waini River in the northwest which was ostensibly to be used in the drug trade.
A statement today from CANU said:
Officials of the Customs Anti Narcotic Unit and the Guyana Defence Force Special Forces, Coast Guard and Air Corps conducted an operation along the Waini River in the North West District. During a search of one of the creeks branching off from the Waini, a blue vessel (later identified as a Self Propelled Semi Submersible (SPSS)) was discovered about 2 miles in, along with a camp consisting of 3 structures – accommodation, workshop area and generator. The accommodation had the capacity to sleep approximately 12 persons, there was also a kitchen area located within the accommodation. The workshop consisted of pulleys, power tools, paint, and several fiber glass materials. Based on the items present, it is evident that this area was used to build the SPSS found in the creek.
The SPSS upon closer inspection was already fitted with a diesel engine and steering wheel, navigation and other machinery to deem it serviceable. There was no contraband on board the SPSS.
Investigations are ongoing along with discussions with foreign counterparts as it relates to information sharing and assistance.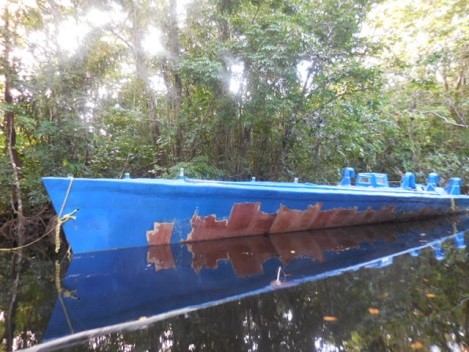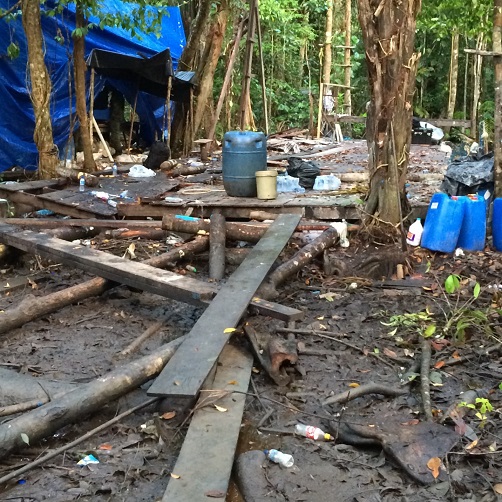 Comments

Several candidates recorded outstanding performances at this year's Caribbean Advanced Proficiency Examination (CAPE).

 Geometric improvements will be carried out on the East Coast Railway Embankment Road come September for smoother traffic flow.
Swift action by the Law Enforcement and Investigation Division (LEID) of the Guyana Revenue Authority (GRA) aided in the removal of a large quantity of seized foreign chicken from two separate cold storage facilities in the Berbice area after it was discovered that the commodities were unlawfully being disposed of, the GRA said today.

Farha Faiz, a lawyer, speaks with the media after a verdict for the controversial Muslim quick divorce law outside the Supreme Court in New Delhi, India August 22, 2017.  

Defeat Tallawahs by 37 runs Chris Gayle, playing in his 50th CPL match, produced his 63rd T20 fifty as St Kitts & Nevis Patriots cruised past Jamaica Tallawahs by 37 runs to guarantee a place in the playoffs for the first time in their three-year history.