Owner of the Guyana Variety Store and Nut Centre John Rudolph Singh, scheduled to be sentenced yesterday for causing public terror, is now out of jail on $200,000 bail after recanting his guilty plea.
Singh, of 38 Cummings Street, Georgetown, made his second appearance before Magistrate Ann McLennan at the Georgetown Magistrates' Courts, where he was due to be sentenced after the presentation of a probation report.
On Wednesday, Singh was remanded to prison after he admitted to shooting off his licensed firearm while trying to get his wife and their three children to leave with him from his mother-in-law's residence.
Singh's case was called yesterday out of the view of members of the public and the press, who were ejected from the courtroom by the magistrate after a cellphone rang. The owner of the device was later revealed to be a relative of Singh.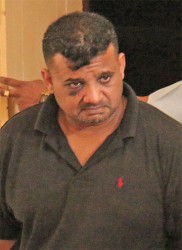 Stabroek News later learnt that Singh was admitted to $200,000 bail after telling the court that he wanted to change his plea and that he misunderstood the charge.
The court granted bail but also ordered that the man's firearm be seized.
Singh, who said he is called "Superman" and "Dog" by friends, was charged with wantonly discharging a loaded firearm with intend to cause terror on August 11th, at Chateau Margot, East Coast Demerara.
At Wednesday's hearing, Prosecutor Deniro Jones had told the court that because of problems in their relationship, Singh's wife, Cynthia, left with their children and travelled to her mother's house.
He said that Singh later travelled to his mother-in-law's house and demanded that his wife and children leave with him but they became afraid and locked themselves in at the premises. Singh then discharged several rounds from his licensed 9mm pistol to the lock on the gate and several in the air.
Jones said that the man then drove with his children to Eve Leary, where he reported what had happened. His firearm was then seized and an investigation was conducted, resulting in the current charge.
Singh, though represented by attorney Basil Williams, had asked the court's leave to explain what had happened and then spent the better part of the next hour explaining his actions.
He admitted to going to his mother-in-law's premises with his pistol and shooting at the gate and into the air in a bid to get his wife and children to leave with him. He, however, pointed out that he had held the gun away from any human being.
During his submissions, he had also mentioned that he was rich and that he is a popular businessman and he also rattled off how many doctors, lawyers, judges and politicians he knew.
The case was adjourned until September 15.
Comments

Dawn Hastings-Williams President David Granger, today, announced that Minister within the Ministry of Communities,  Dawn Hastings-Williams will assume the portfolio of Minister of Public Affairs in the Ministry of the Presidency with effect from September 1, 2017.

President David Granger, earlier today, attended the wedding reception of Minister within the Ministry of Communities with responsibility for Housing, Valerie Patterson- Yearwood and .

Grace Mugabe   JOHANNESBURG,  (Reuters) – South African police confirmed on Wednesday that Zimbabwean first lady Grace Mugabe remained in the country and had applied for diplomatic immunity after being accused of assaulting a 20-year-old model in an upmarket Johannesburg hotel.

Daniel Craig   LONDON, (Reuters) – British actor Daniel Craig has confirmed he will reprise the role of James Bond one last time, ending months of speculation.

UN experts condemn racist violence in U.S., urge investigations GENEVA, (Reuters) – United Nations human rights experts called on the United States today to combat rising racist violence and xenophobia and to prosecute perpetrators of hate crimes.