The discovery on Thursday of a likely narco-submarine in a creek off the Waini River in the North West District and the nearby camp where it is believed to have been built point to the depth of the drug trade here and is seen as an intelligence-based victory, law enforcement sources said yesterday.
North West Guyana is seen as the transit point for drugs flowing into the country but prior to Thursday's discovery of the vessel not much had been exposed by law enforcement officials on the mechanics of the trade. Interdicting the trade at that point could deal a severe blow to trafficking rings. The discovery follows quickly on the increasing role that the US Drug Enforcement Administration (DEA) will be playing here.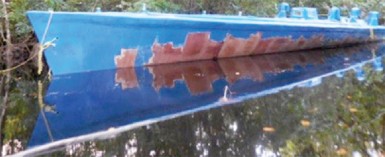 The find was made as a result of an operation conducted by local drug enforcement agents and Guyana
Defence Force (GDF) personnel without any police involvement. President Donald Ramotar yesterday announced that the United States' DEA agents would assist local investigators. He also downplayed the exclusion of the police from the operation.
In an official statement released yesterday, the Customs Anti-Narcotics Unit (CANU) said that its agents along with the GDF Special Forces, Coast Guard and Air Corps conducted the operation along the Waini River in the North West District.
During a search of one of the creeks branching off from the Waini, CANU said a blue vessel, later identified as a Self-Pro-pelled Semi-Submersible (SPSS), was discovered about two miles in, along with a camp consisting of three structures for accommodation, a workshop and power generation.
According to CANU, the accommodation had the capacity to sleep approximately 12 persons and it included a kitchen area. The workshop consisted of pulleys, power tools, paint, and fibre glass materials. "Based on the items present, it is evident that this area was used to build the SPSS found in the creek," it said in the statement.
CANU added that the craft, upon closer inspection, was already fitted with a diesel engine and steering wheel, navigation and other machinery to deem it serviceable. There was, however, no contraband on board.
CANU said that investigations are ongoing along with discussions with foreign counterparts as it relates to information sharing and assistance.
Based on the photographs provided by CANU, the vessel was almost completely painted. Law enforcement sources say the craft and the abandoned camp will provide an abundance of clues as to who occupied the site and their method of work.
"The CANU and the police constantly work in close cooperation with each other. I think security forces all over the world work on a need to know basis and that's a general rule… you don't volunteer certain information at any time and it doesn't mean anything," Ramotar said yesterday when asked about the police force's exclusion from the investigation.
Asked if he meant that the police did not need to know, he was quick to respond, "I don't think so at all."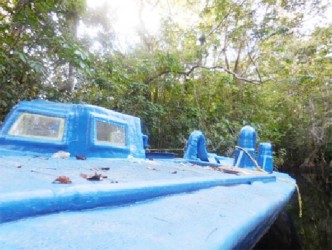 Ramotar explained that reports on the find have so far been preliminary but that investigators believe that the sub was the work of drug traffickers. He said that the operation involved external forces. "I am convinced that this is not necessarily only a local operation. It probably has links with outside forces as well," he said.
He added that the area has now been secured in preparation for intense scrutiny. "The area has been secured and there are also going to do a thorough investigation in the near future, in a matter of day or days, to understand it," he said.
History
According to a Joint Interagency Task Force South Fact Sheet on SPSS vessels, traffickers have experimented with primitive semi-submersibles since the early 1990s. "First constructed of fiberglass and wood, the first generation of SPSS vessels were limited in range and capacity. However, as [Drug Trafficking Organisations] advanced their techniques, newer generations of the SPSS, built from steel, can carry larger loads and can travel much further than previous assessed," it said.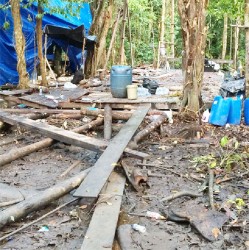 The Fact Sheet explained that the SPSS is not a true submersible, but rather is a surface vessel with a very low freeboard.
They are usually 40 to 80 feet in length with a freeboard (exposed area above the waterline) of approximately 18 inches.
It said too that the vessels are composed of fiberglass/wood or steel and usually takes upwards of a year to build, at an estimated cost of US$2M.
They are self-propelled, with a single or twin diesel engines and a fuel capacity of 1500 or more gallons. Their speed was given as over six knots, while they have a range of approximately 2,000 miles.
The vessels also typically have a capacity to hold four persons and four to 12 metric tonnes of cocaine.
"We assess the use of SPSS vessels has grown in recent years as a means to counter effective U.S. drug interdiction efforts," the Fact Sheet said, while noting that drug traffickers continue to adapt to law enforcement successes. "The SPSS, once perceived as an impractical and risky smuggling tool, has proven successful as an innovative and highly mobile, asymmetrical method of conveyance," it added.
Security officials who spoke with Stabroek News yesterday said that with Guyana being a transshipment point or narcotics, traffickers would be looking at various options to ensure the successful exit of the drugs from Guyana. Of recent there have been a number of large drug interdictions.
The area where the vessel was discovered, like most parts of Guyana's vast interior, is isolated and can easily seclude illegal activities. A resident said that given the shallowness of the river, it would have to remain on the surface of the water until it reaches the Atlantic Ocean. The Waini River leads directly into the Ocean.
This sort of vessel is used by drug cartels, especially the Columbians, to transport huge amounts of cocaine without detection. Security officials have repeatedly admitted that Guyana's porous borders and the lack of police presence in the interior regions make it easy for the drugs to enter the country.
Comments

Legal Advisor to the Police, retired Justice of Appeal, Claudette Singh yesterday testified that there was insufficient evidence in the allegation made by Andriff Gillard of an alleged plot to assassinate President David Granger.

Today at 2 pm the 30 councillors of the Georgetown City Council will once again cast a vote on the future of metered parking in the city and several of them have told Stabroek News that they want to be sure their vote accurately represents a mandate from residents.

Crime Chief Wendell Blanhum yesterday made a written request to be recalled before the Commission of Inquiry (CoI) investigating the allegation of a plot to kill the President of Guyana to defend himself against "appalling" statements made by Assistant Commissioner of Police David Ramnarine.

Two men were yesterday remanded to prison by a city magistrate after they were charged with the fatal stabbing of Rawle Rodrigues which occurred in January.

Amid accusations that he has improperly tried to direct a constitutional commission, President David Granger said he had asked for a delay in police promotions to address complaints that have been made against law enforcers.