A Fyrish man succumbed to injuries yesterday morning, just hours after he was involved in an accident along the Corentyne, Berbice Public Road.
Dead is Karamchand Shivdyall, 27, of Lot 17 Third Street, Fryish, Corentyne, who passed away at the New Amsterdam Public Hospital, while he was being prepared for transfer to the Georgetown Public Hospital.
Shivdyall, who is survived by his wife and young son, was a worker at the GuySuCo factory at Albion.
Stabroek News was told that Shivdyall and four friends had been returning from a club in New Amsterdam during the wee hours of yesterday morning when the accident occurred.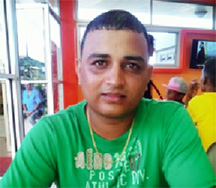 The five men had attended a wedding house and afterward they left for the club.
The driver, Eugene Cort, of Fryish, told investigators that while they were proceeding they spotted a cow on the road. He said he swerved to avoid hitting the animal and lost control of the vehicle, which plunged into a trench.
While Shivdyall suffered serious injuries, his friends only received minor injuries. The driver had escaped without reporting the matter to the police. Nevertheless, lawmen received information about the accident on Saturday morning and later arrested Cort. The police also impounded the vehicle after finding it hidden away inside a yard.
From all indications, Shivdyall suffered internal injuries. Members of his family stated that they did not any observe any visible external injuries on his body.
His mother, Nadira Shivdyall, said that at approximately 5am she received a call from a woman who informed her that her son had been hospitalised after he was involved in an accident.
When she arrived at the New Amsterdam Hospital, she saw her son in the Accident and Emergency unit receiving oxygen. The grieving mother said he seemed to be "alright" at first but his condition soon deteriorated. At one point, the mother said, doctors told her that it appeared as if there was mud in his lungs.
Nurses were preparing Shivdyall for transfer to the Georgetown Public Hospital. However, it was while he was in the ambulance that he took his last breath.
Comments

Grace Mugabe   HARARE,  (Reuters) – Zimbabwe's first lady Grace Mugabe returned from South Africa early today, state media reported, after a 20-year-old model accused her of assault in an upmarket Johannesburg hotel room.

Michael Bhopaul, 16, doesn't know if he is this year's best performer at    the Caribbean Secondary Examination Certificate (CSEC) Examinations, but with preliminary results showing that he has obtained passes in 25 subjects, he will be hard to top.

Inmates at the Lusignan Prison turned over 33 improvised weapons yesterday morning to prison authorities, who say that they also apologised to the prison staff for the unrest at the facility on Friday night.

Well known Berbice attorney Chandra Sohan was arrested on Friday after he allegedly struck a pedestrian in a hit and run accident along the Williamsburg Public Road.

For a little more than an hour yesterday, the streets outside the Mackenzie Market rang with the voices of dozens of Linden residents who turned out to support a march against homosexuality.