Imagine waking up one day to total darkness and hours later you are told that you are blind forever. That is what happened to 36-year-old Odessa Blair six years ago when hypertension damaged her optic nerve during her second pregnancy.
"When Dr Norton told me that no surgery could help me and I would be blind forever I screamed and screamed and I could feel everybody looking at me, and my mother tried to console me… I would say it was the worst day of my life, July fourth, two thousand and eight," Blair told the Sunday Stabroek in an interview recently.
Fast forward six years and Blair is a pillar of strength. She is a woman who has been through many of life's struggles but does not intend to give up. Unemployed, just out of an abusive relationship and many days not knowing where the next meal for herself and children will come from, Blair is looking towards the future with optimism.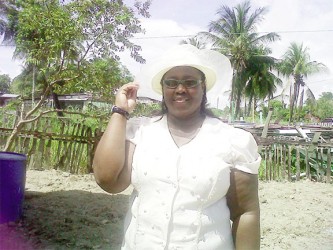 Gaining the second best results among the students who for the first time wrote the Caribbean Secondary Examination Certificate (CESEC) through the Guyana Society for the Blind, Blair is ready to move on to the University of Guyana (UG) to read for a degree in social work. Blair credits her five grade twos to hard work and determination.
She spoke openly of struggling with depression after she became blind which was compounded by her partner becoming verbally and pyschologically abusive, and how she eventually ended the relationship when he hit her for the first time.
She does not regret having her son Mario even although sometimes she wonders if it would have been different had she heeded the advice to give birth to the baby when she was seven months pregnant.
"But nobody know if he would have live and nobody didn't know the pressure could get so bad I would have gotten blind. But my son is a blessing; he is so intelligent and he loves to pray. I don't regret having him," Blair said reflectively.
Blair recalled that when she was seven months into her pregnancy she became afflicted by hypertension and she became blind the following month. She was forced to come off work and was placed on bed rest, but her pressure remained high and she refused the option to have the child early.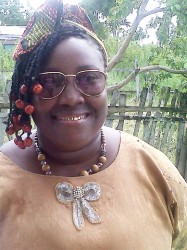 "All I could remember is one morning I work up and I couldn't see; I knew it was morning but the place was dark. I started shouting and screaming and telling mommy I am not seeing…" Blair recalled, even as she struggled to put the experience into words.
She was eventually taken to the Georgetown Public Hospital (GPH) and seen by Dr George Norton who gave her the most chilling news she has ever received in her life. He told her she was blind and it could not be reversed and at that moment she screamed.
Even though Dr Norton told her she would remain blind for the rest of her life, Blair said she became hopeful after she was told by others she would see again when the child was born.
"It was the worst day of my life, that was the worst day of my life," Blair said close to tears remembering that she cried every day for about two years.
Because of her situation her pressure remained high and it was only after she was advised by the doctor that she would see after the birth that it went down, thus allowing a C-section to be performed on her, and her son was born.
"When I come of the anaesthetic I couldn't see and it was a next screaming at the hospital and I asking the doctor what happen because he promise I would see…and he couldn't face me. The nurses say he walked out and he was crying," Blair said, adding that maybe the doctor had hoped she would have seen again.
'A new life'
After having the baby Blair said it was like a new life began for her, but she coped the best she could and did everything for the baby.
"I did everything for my baby, bathe him, wash his clothes just like what a normal mother would do," she said, even though she had persons to help her.
His father prepared her porridge.
Her daughter, who is now 17, struggled with the news that her mother was blind.
"It was shocking for her and I think she was ashamed about the situation, she did not want to walk on the road with me, but now she has gotten over it," Blair said
"I must say I survive by the grace of God. I work nowhere [and] the fact that my son's father does not contribute anything, all I can say [is] I am a survivor; God does just provide for me every day," Blair said laying her situation bare.
She receives public assistance but Blair said she has applied to the National Insurance Scheme (NIS) for her benefits but years of "running around" have yielded no results. She worked for 12 years as a sales clerk before she became blind and has the requisite number of contributions, evidence of which has been provided to the insurance scheme, but still nothing has been forthcoming. Blair is begging the powers that be at NIS to hear her cry and give her disability benefits because she needs them.
She lives beneath her mother at Farm Village, West Coast Demerara, and Blair is thankful she does not have to pay rent because as she puts it she would have been "living on the road." Her mother and other relatives assist her to the best of their ability and Blair said she is grateful.
She thinks the blind society helped to give her a second chance in life, even though initially she vehemently opposed the idea of approaching the society when encouraged to do so by a friend.
"I would say 'you crazy I am not going there, I don't want to be around those people, I am not blind, I wouldn't be blind forever,'" Blair said.
Be she eventually approached the society and she does not regret it, because apart from being afforded the opportunity to write CESEC she also did some computer courses and is involved in steel pan.
Studying for CESEC was a big challenge for her as Blair recalled it was not easy waking up in the night and having to deal with her children, but she remembered that "success comes with hard work and what you put in is what you would get out." She also credits the society for helping her to be mobile, since prior to that she was at home, "moping and crying all the time."
"I must say thanks to the Guyana Society for the Blind and all those who supported me and afforded me the opportunity to write CXC," she said again.
'Could not cope'
She believes that her reputed husband could not cope with her pregnancy and as such he changed over time: "I know it because of my blindness and he started cheating and doing all manner of stupidness and I just decided to put an end to the relationship because he was just adding more stress…"
She recalled that he took advantage of the situation and would humiliate her in many ways, but last year January when she started to study for CSEC he objected on the pretext that she never had time and was studying all the time. But Blair believes the real reason was because she was empowering herself and the more he objected the more it added fuel to her desire to persevere.
Blair said she called it quits when he hit her, and the only reason she did not have him placed before the courts was because of their son.
"It was total disrespect and abusive," Blair said, adding that she asked him to leave the home.
Blair recalled that before she eventually ended the relationship the man made her feel as if she was a burden to him.
Blair noted that too that many women are dying at the hands of their partners and more are living a life of hell while holding on to a partner who does not love them and abuses them, and she was not going to settle for that.
"My advice to persons, even if you are a person with disability do not settle for less; if you find a man is abusive just let him go, think about yourself first and make the right decision," Blair said emphatically.
Blair pointed out that many women say they are doing it for their children not realizing that they are doing more damage than good to the children. She believes that the world would be a better place if more women stood up for themselves.
She remembers that her partner would take her out to functions and also invite his girlfriend, and while she could not see she knew he was being disrespectful to her in her presence with those women and she would hear the snide comments.
"It was very hard and humiliating and I just decided that enough was enough. It was not easy because he was the sole breadwinner, but how long could I deny myself peace of mind, I was already blind, why I must be sad all the time?" Blair said.
She described her former partner's action after the separation as "spiteful" because she has rebuffed his attempts for them to re-unite. As such he does not help with his son whom he would from time to time take for a week at a time. His son adores him nevertheless, and Blair said she only hopes that one day he will take his responsibility of being a father seriously.
Looking to the future Blair hopes to become employed soon but first she is focusing on attending UG and through the help of society she hopes to secure a scholarship. She knows it is going to be difficult beginning with how difficult it is going to be travel from Farm to Turkeyen. It was not only the cost, she explained, but that the Turkeyen route is a new one and would be difficult to learn. In respect of that she would welcome assistance with transportation once her classes start.
July 4, 2008 may have been the worst day in her life, but today Blair sees it as a kind of blessing as she has become a stronger and more focused person. She again reiterated that she does not regret having her son. Blair is hoping that her story would be an inspiration to others and she hopes NIS would now give her the benefits especially as she wants to further her studies. And should anyone want to assist her with transportation from Farm to Turkeyen, Blair can be contacted at 667-8297.
Comments

Jerry Lewis   LOS ANGELES,  (Reuters) – Jerry Lewis, the high prince of low-brow comedy on stage and in movies as well as a fund-raising powerhouse with his annual Labor Day telethon, died today of "natural causes" at the age of 91, his family said.

Beharry Automotive Limited (BAL) , the authorised distributor for Toyota parts and lubricants, says that an abundance  of imitation Toyota parts and lubricants have entered the market with the Toyota logo and trademark.

Grace Mugabe   HARARE,  (Reuters) – Zimbabwe's first lady Grace Mugabe returned from South Africa early today, state media reported, after a 20-year-old model accused her of assault in an upmarket Johannesburg hotel room.

Michael Bhopaul, 16, doesn't know if he is this year's best performer at    the Caribbean Secondary Examination Certificate (CSEC) Examinations, but with preliminary results showing that he has obtained passes in 25 subjects, he will be hard to top.

Inmates at the Lusignan Prison turned over 33 improvised weapons yesterday morning to prison authorities, who say that they also apologised to the prison staff for the unrest at the facility on Friday night.